The Vermont Glove lined Chopper's Mitt features a unique design that holds up for the most rugged tasks on the coldest of days. This is an extremely versatile, good-looking mitten that can be used in all sorts of outdoor scenarios. The Chopper's Mitt is my new go to glove for the winter season because of its durability, warmth, comfort, and as an added bonus, stylish appeal.
All Purpose Mitten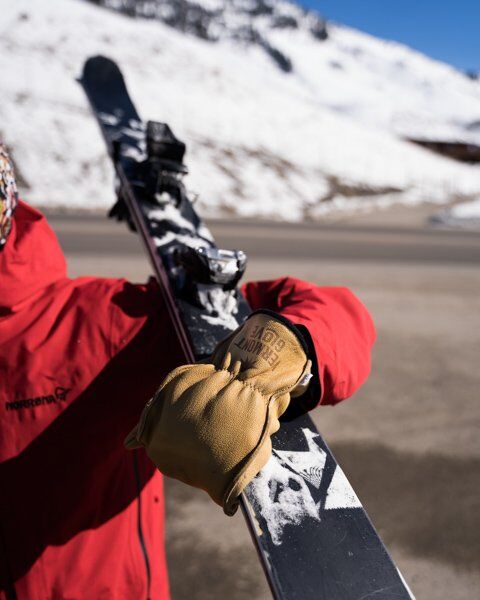 Vermont Glove describes this as a truly "all-purpose" mitten, and I couldn't agree more. The Vermont Glove Mittens are super unique in its design. It features a two-piece construction with a 100% goat leather outer layer, and a 50% wool, 50% polyester liner. It also features nylon
thread hand-stitching, with double stitching in heavy-use areas to ensure durability. The use of goat leather is fairly unique, and it's great because it is both soft and durable and remains that way for years.
The mittens come with a leather conditioner to keep them soft and flexible, as well as a beeswax waterproofing treatment— both of which were very easy to use. Another thing I love about this design is that on warmer days, I can remove the liner and just use the leather portion of the mitten to keep my hands at a comfortable temperature. I often find that gloves that are warm enough to withstand the coldest of days are too hot and sweaty on warmer days, but these gloves undoubtedly work in a wide range of temperatures and conditions.
Warmth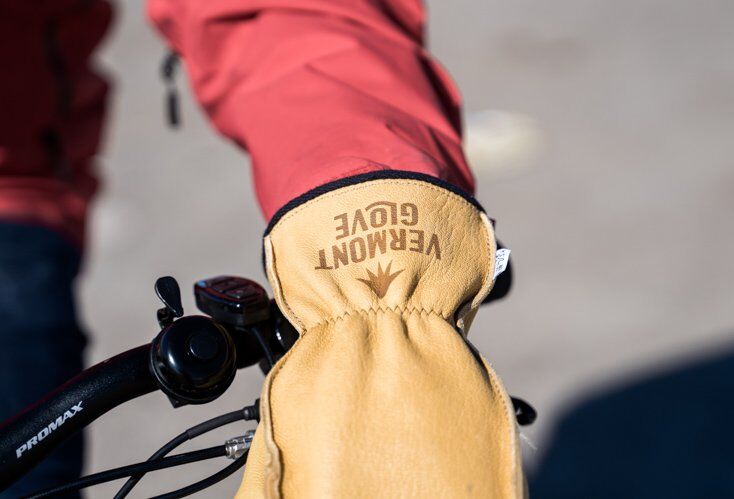 I went snow biking on a zero degree morning, and my hands weren't cold in the slightest. They held up against the wind easily, and stayed surprisingly dry. I have found that the leather portion can get a little bit wet on warm, snowy days, especially if it's been a while since applying the waterproofing treatment, but my hands stay relatively warm because of the liner.
While I would not recommend this glove for outdoor exercise such as ski touring or cross country skiing because of its somewhat bulky nature and lack of breathability, I found this glove to suit my needs in pretty much every other scenario. I loved this glove for downhill skiing, doing work around the property, or just hanging outside on colder days. The quality feels great, and I can tell they'll last me forever.
Hand Made in USA
Handmade in the United States, Vermont Glove is a family-owned company worth supporting. They value social and environmental sustainability, using natural and renewable materials in all of their gloves. And the best part is: they do all of this without sacrificing quality whatsoever.
Their supply chain is entirely contained within the US, and they support the local, rural Vermont economy by providing employees with living wages. The quality of their products speak for themselves, but if you needed another reason to buy these gloves, their sustainable, family-owned ethical business is it.
Overall Impression
Overall, I really love the Vermont Glove Chopper Mittens. They look great and they feel great. I feel like I'll be able to use them in a vast majority of situations I find myself in throughout the winter months, and I know I'll be able to rely on them.
I have no doubt these gloves will last me for years and years, and their versatility will suit me well. I love to support environmentally and socially conscious brands, so Vermont Glove makes this purchase an easy decision. Besides, $100 for mittens as high-quality as these is a steal of a deal.
Related Articles: