The Bypass Biking gloves from Wildhorn are a decent set of gloves that offer pretty good protection while riding. I have enjoyed the lightweight nature of these gloves along with the grip they give. For the price they are at, the Wildhorn Bypass Gloves are a great purchase for anyone looking to get their first pair of MTB gloves.
Construction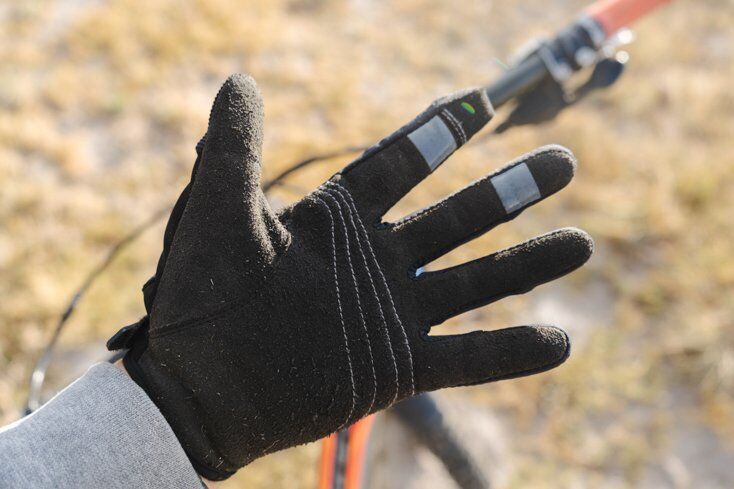 The Bypass is made of nylon and spandex on the outside shell. This offers some protection against branches and twigs. I would like to see some more reinforcement around the knuckles, but the shell has not torn yet. The palm side is made of Clarino, which is a bundle of microfibers, and polyurethane. It feels like leather, but it is more flexible than leather. They protected my hands and did not tear after a couple falls. The Velcro strap felt secure, and it was easy to put on and remove the glove.
Finger Features
Some notable aspects about the gloves is that the finger include some tech. The braking fingers have silicon grips on them. They are very sticky and responsive, which make them awesome for white knuckling down a rowdy trail.
Wildhorn boasts that the fingertips allow you to use a smart phone touch screen, but I actually found this to be really finnicky and difficult to use. I could never get my camera to pull up on my phone, but occasionally I could get my screen to turn on.
Overall Impression
I genuinely like this glove. It's a good riding glove especially for someone who is getting into mountain biking and is looking for an affordable glove. For the price that it is at, it's worth it. The construction is good and protected my hands well, even from a cactus at one point. Overall, the Wildhorn Bypass Glove ($39.99) will be one that I definitely recommend.
Related Articles: