Somewhere along the border of Idaho and Montana and Idaho, where the Continental Divide pushes into its final state in the US, there's a little mountain range called the Centennials. It's one of the few that runs east to west, and it's also just far enough from airports and people and everything that brings in the crowds for it to be a truly wild adventure.
Yes, there are sledders, but they mostly stay low and even then they're few and far between. A trip to Hellroaring Powder Guides' hut, a short distance from Hellroaring Creek, is the type of next level backcountry adventure. Short of a heli trip, you'd be hard-pressed to find such pristine and fun mountains that are so epicly empty.
It all starts with about a 3 to 4 hours drive from Jackson through beautiful Eastern Idaho, limning the Tetons and then cruising along the Henry's Fork to a parking lot on the Idaho side. This is where the fun begins.
A rip-roaring treaded side-by-side ride for 8 miles drops you at the trailhead. Then you start to climb up to paradise.
History
According to Sam Hansen, the owner of Hellroaring Powder Guides, the hut was founded in the '80s as a hunting cabin that was left up for the winter. It changed hands over the years, becoming a winter ski touring hut. There was a heli operation there at one point. It changed hands; lost an owner in a mountaineering accident in AK; and in 2014 Hansen bought it.
"From a pretty early age I always though a pretty cool job would be something to do with skiing," Hansen says, "how can I get paid to ski?" From Rexburg, ID, Hansen grew up snowboarding until in high school he saw his first splitboarder. The other thing he did growing up was spending time snowmobiling with his dad in the Centennials. His dream then was to combine his two passions in this off-the-beaten-path mountain range. When he found out a hut was up there, he dreamed he could buy it. Then he found out it was up for sale and he jumped on the chance.
"Something that makes this hut totally unique is because it's in a Wilderness Study area, none of it is permanent so at the beginning of every season, everything gets strapped on the back of mules and hauled up there – several thousand pounds of equipment gets hauled off in June and back up in October." Its location in a little-known range in the Beaverhead Deerlodge National Forest also means it gets not even a fraction of the ski traffic of its neighboring Teton and Yellowstone peaks.
Which meant when we arrived, the high peaks were untracked.
Location
The hut is a big ol' rounded-top, flat-walled rectangle, nestled against trees on a clearing. The five of us throw down our packs, empty the provisions, and get ready to head back out. A quick recon mission takes us to some sheer rock cliffs, then to a big beautiful ridge; we all pick our lines. I surf the gully, dropping a nice little rock to hero pow. Our lines are the only cuts into a pristine run that our guide, Josh Carr, often uses as a test slope with his clients.
There's nothing like the alpenglow from the patio carved into the snow, the moon rising behind the burning peaks as we sip on delicious beverages and some charcuterie we dragged up. Dinner tastes better up there. The fire is warm, and all 5 of us have our own comfortable beds. I sleep better in the wild.
Day two finds us crossing the continental divide once and again, lapping a peak we can see from the flats as we trek into the big wide sun. Sledders play around below but we're alone on Rea's. We ridge hop our way back to the hut – up and down and up and down, all untracked, all dynamic, all foreign and beautiful. That night, the moon is full and from the clearing nighttime looks like day. Still, get enough sleep for a big last day.
Our final day starts with venison and egg breakfast burritos, rivers of coffee, some final re-gathering of our gear, sorting, making sure all is dry that was hung from the ceiling with care in front of the fire the night before. We push to one of the tallest peaks around, one Josh has eyed forever, a daunting mountain called Nemesis. We check the layers, ski-cut it. Then slip down the rabbit hole.
Overall Impression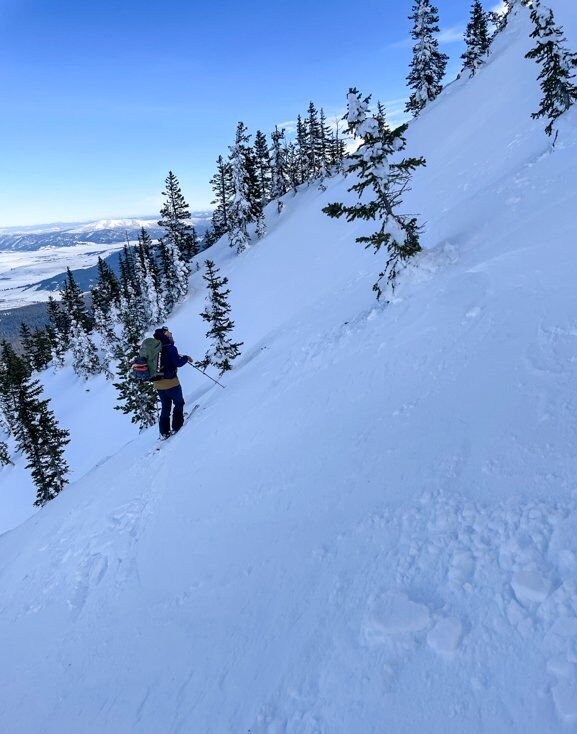 Hellroaring Powder Guides pushes into the most untracked lines of a place few even know is on the map. Delivers just enough ruggedness to make you feel how in the middle of nowhere you are. The hut gives just enough comfort to sleep well.
For more information please visit: https://www.skihellroaring.com/
Tell them Mountain Weekly News sent you and Sam and his team will make sure it's a special trip.
Related Articles: