A few years ago I told a friend I've been trailrunning and had plans to crush the Teton Crest trail in a day and a half; he asked why I'd want to miss so much by doing it so fast, which is part of the thought behind HIGHLANDER Adventures.
Ever since the Leadville 100 ultra races have been exploding. Which makes an outdoorsperson wonder why can't we just get together and go on some epic hikes to drink in all the beauty of the trail. Take some time to smell the roses and drink in the vistas but still cover some real ground, relatively quickly at that.
Why HIGHLANDER?
"I was truly close to burnout at my last job, and so were my friends," explains HIGHLANDER CEO Jurica Barac. "We wanted to create an easy-going gateway of sorts, and that was how we connected our passion for hiking and organizing events into launching HIGHLANDER events around the world, with the mission of helping people improve their lives through the benefits of long-distance hiking."
A HIGHLANDER event comes down to you and a group of friends (or strangers who simply haven't become friends yet) showing up to hike an epic adventure route. "We don't strive for huge numbers … we have a maximum of 500 people across 7 to 10 days."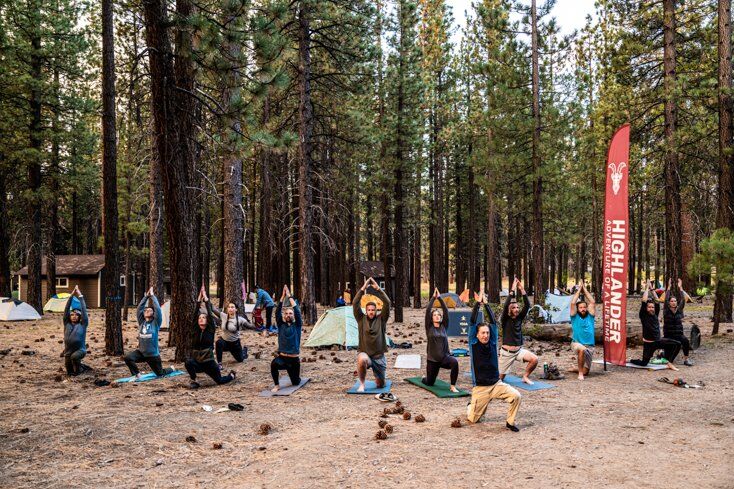 At the end of every day there's a ceiling of stars on a massive celestial canvas. When you get to a checkpoint, the adventure takes on a festival feel with some education, some yoga, movie screenings, and of course some epic stargazing seshes. Or just listening to music and hanging out.
HIGHLANDER puts on these huge events like the Dolomites and Croatia, destinations as far-flung as the UAE and the Slovenian Alps.
"Myself and two other friends founded HIGHLANDER in Croatia in 2017," explains Barac, "because we decided to share our love and passion for long-distance hiking."
But what's got us really excited right now is their upcoming Big Bear expedition.
HIGHLANDER's Big Bear Adventure
"We set out on a mission to motivate people to climb out of their comfort zone, release stress, become more powerful and educate themselves about sustainability and the protection of Mother Nature," Barac tells us. And one place this is really needed is Big Bear, CA.
California has had a winter for the record books. While a snowboarder might at first glance think endless white falling from the skies, it had some devastating effects. Nobody could get in or out of the San Bernardino ski towns, leading to quite a few shortages. That also means a couple things.
Number 1, Big Bear can use as many visitors as they can get given the fact that they were shut down for so long. Secondly, since Big Bear didn't get nearly as many visitors as it normally does, this will be a really unique time to hike through the wilderness around SoCal's most famous ski destination mountain lake.
"We wanted to launch HIGHLANDER in the U.S. for a long time, and thanks to our investor and partner Spartan Race Inc., we were able to connect with people from big bear lake. It wasn't long before we realized that Big Bear Lake is a tremendously stunning location in the beautiful State of California."
HIGHLANDER Hiking Levels
Like all of HIGHLANDER's other Adventures (and like Meek Mill likes to say), there are levels to this ish so that any fit hiker can take on some Bear Lake exploration.
Orion Hike
Let's start with the most accessible: the Orion. It's a 2 day 18-miler with more descent than ascent, up and down Sugarloaf Mountain, past wild donkeys and Erwin Lake. Though you can also add it to Pegasus or either of the Hercules hikes.
Pegasus Hike
The Pegasus is 34 miles with about 5400 feet of elevation gain. There's the Double Mine, Dead Man Ridge, the wild donkeys of Wild Burro territory and you can add basically Orion to the end of it and get up Sugarloaf. Plus two nights camping in the SoCal high alpine.
Hercules Hike
Next is Hercules. This is a 65-mile hike with 9500 feet of gain basically all around around Big Bear Lake in the San Bernardino Forest, adding pretty much everything in the shorter hikes and then some. You can do it in a casual 4 days or a more intense 3 but either way you'll see more of the area than probably anybody around there.
Ursa Major Hike
Finally we get the Ursa Major, for the most savage mountain athlete out there. I'm talking 101 miles with 18,000 feet of gain in 5 days. This is a full loop around Big Bear, through one of the most storied Forests west of the Rockies, to see and experience things that few have ever experienced, and certainly not in one fell swoop.
Some advice from Barac: "There aren't bad conditions – only bad equipment." He elaborates, "The equipment should be lightweight before anything else so the hiking experience isn't too demanding. Here I'm focusing on quality materials such as merino wool for clothing or woven UHMWPE fibers." Finally, "A person needs to realize that, while on the mountain, they don't need 10 shirts or 5 pairs of hiking boots." It's a sustainability message.
Still not sure which trip is for you? Shoot an email to [email protected]
Experience
That's what we all want, right? Experience. That's why we push our bodies and our minds to go farther, climb higher, move faster. We want to feel. And the way we feel the greatest and the best is when we're exploring, testing ourselves, in the untamed woods of the high peaks. The HIGHLANDER was created to give you that experience, that adventure, and that test however you want to do it. And their new Big Bear event gives you something you can reach, a life-changing event practically in your backyard (no matter where you are in the country, you can probably get a direct to LAX or, even better, Ontario Airport).
There are few better ways to learn about who you are, what you want to be, and what kind of people you want to surround yourself with than going on a group adventure in the wild. Few experiences test your stamina, strength, and will like an epic hike. And few physical activities are as meditative as a long walk in the woods. HIGHLANDER knows all this; they were founded with the goal of sharing this wisdom with all will to take up the challenge.
Go Now!
So take the plunge, get to training, and spend a couple days to a week engaged in self-discovery with the HIGHLANDER Big Bear. Most importantly, "It's necessary to train before going into the mountains, and because of that we want to encourage our participants to train throughout the year and become HIGHLANDERS – people who take care of their health and our Planet!"
For more information and to register for the Big Bear Lake HIGHLANDER Adventure, please visit:
https://highlanderadventure.com/en-us/big-bear-lake
Related Articles: