A father gets only so long to help form his child into what they will be. Sure, the guidance, the presence, the advice, and the shared experiences never end. But by junior high, who they are as a human is pretty well solidified. If I could truly influence the boy , I'd want him to see the world as an exciting place full of adventure, beauty, and friends you simply haven't met yet. I want him to also realize that there are few better ways to expand your mind than through travel. On the other side, I want the boy to know how to keep his head on his shoulders in all situations especially when he's a stranger.
Which is why we decided to go on a father-son ski climb trip through Iceland and London, a blend of outdoor adventure, urban exploration, and luxury. Made possible by Icelandair's program that lets you stay in Iceland for up to a week on your way to or from any of their destinations.
Visiting Island
A few years ago I first heard about IcelandAir's program that allows anybody who flies on IcelandAir to get a couple day layover in Iceland without it adding to the price of the flight. It's a damn good idea, to get folks to visit a place few people would've spent the money to visit alone, only because nobody had realized that Iceland is one of the most beautiful places on earth.
We flew out of Jackson Hole on one of those hot Wyoming July days, connecting through Chicago where our Icelandair gate attendant saves the day by ensuring our ski bag got onto the right plane despite my mistakes. A ski bag in July causes confusion.
We have a ski bag because I'd dreamed of skiing an Icelandic glacier in the middle of the summer. Something about a low-altitude ski run in midsummer sounded amazing, but one in an ancient island settled by the Vikings, in a place steeped in history and magic, where some of the first great written sagas came from, sounded like a life-changing Father Son adventure.
But doing some research I discovered that there are no ski rentals available in Iceland in the summer. So we brought a couple pairs of skis, packs, boots, beacons, ropes, harnesses, everything for a father to ski a glacier with his 8-year-old son in the wilds of Iceland.
Blue Lagoon
The first bit of advice I got from everybody: Go to Blue Lagoon. Bonus points if you go right from the airport.
I made reservations beforehand but we arrive earlier so we stop in Grindavik, full of egg-shell campers, grabbing a meal of lobster soup and tiger shrimp at the Fish House. Grindavik is an old fishing village, with the requisite Icelandic houses, simple but effective. A few restaurants. A stark ocean. Simples beauty. But if you wanna stay around there, you might just wanna stay at Blue Lagoon.
There's no better way to wash off a transatlantic flight than a quick shower before diving into a hot lake, rubbing volcanic mud and kelp on your face. It's a massive pool fueled by volcanoes. Water around 170 degrees forces its way to the surface to make the greatest hot tub, like ever. We jump into the sauna cave, then back out again. We float, schvitz, and dive for a few hours, until we're pruny and ready to check into our hotel in Reykjavik. But yeah, authoritatively no trip to Iceland is complete without a visit to Blue Lagoon.
Where to Stay in Reykjavik
Reykjavik is the capitol of Iceland and the place to stay if you want to add some culture to your outdoor adventure. Radisson has some great properties in Europe, and the Blu brand is full luxury. We stay at the Radisson Blu 1919. It's been a historic icon since 1919, right in the center of the city. Walk a block in one direction and we're at a plaza where they're screening an outdoor champions league game. Go the other way and we're at the waterfront. Up 1, over 1 takes us to famous spots en route to the rainbow road, ending in a cathedral like a Viking spaceship with a statue to Leif Ericson, the first European to step foot on the Americas.
Of course, if you're looking for that new-build 5-star luxury, the nearby Edition is some sort of next level modern bespoke, what folks might call "sumptuous." There's nothing else like it in Reykjavik.
Regardless, it being Friday the streets are a runway show to bars that close at 3 but not for me and the 8-year-old, no. Because the next morning we wake at 7 and start driving north.
Skiing in Iceland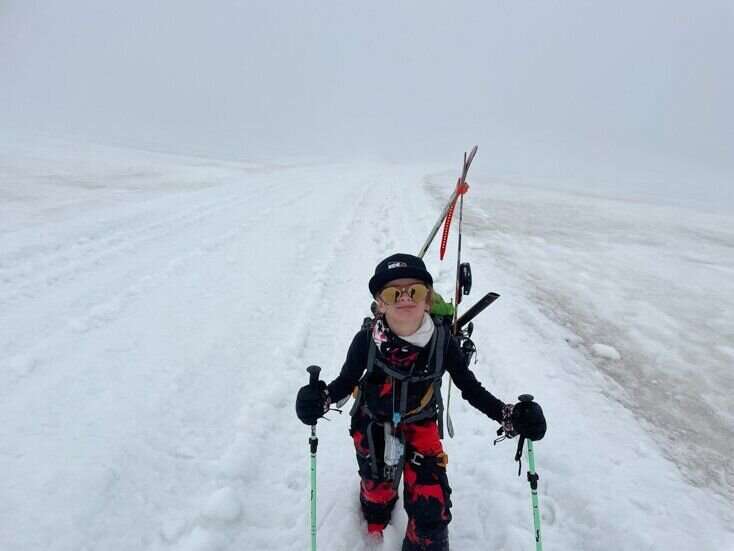 The boy sleeps while I drive across one fjord via rock tunnel, then another by bridge. I'd found some beta about a glacier on the Snæfells peninsula. It's relatively accessible from Reykjavik, up a dirt road, stopping en route to explore Sönghellir Caves. "Sönghellir sheltered the family of legendary 9th Century settler Bárður Snæfellsás. Half man, half-giant, and a wielder of magic, Snæfellsás is now considered the area's guardian spirit."
And yes, there are ski resorts in Iceland a quick drive from Reykjavik. I've heard good things about Akureyri, especially Hlidarfjall for famioies and Dalvik for experts. Yeah, Bláfjöl may be a little less challenging than some Rocky Mountain resorts but if you go in the winter, could you imagine skiing under the Northern Lights a half hour from a capitol? And Iceland's heli-skiing is legendary on the Tröllaskagi Peninsula deep to the north.
But we were there in the summer. And I'd found a glacier a couple hours from Reykjavik seemingly access ible from car. So we went there.
Soon the rocky road, slick with rain, gives way to snow. Lots of snow. So much that the high school kid trying to show off for his date in his Range Rover gets stuck trying to cross a patch and Jackson and I get out my shovel to rescue them. We drive around the patch and push to the top of the pass where a snowcat's parked for glacier tours.
While I have ropes and harnesses, if we can avoid roping up I'd prefer that and the cat track is the perfect opportunity. Snæfellsás is with us. I feel safe as we clomp over mossy stone into a cloud.
"It's just like we're at home except we're on an island in the middle of the ocean," Jackson says and I nod back. Snæfellsjökull is also famous for being the dormant volcano where Jules Verne's intrepid explorers began their journey to the center of the earth.
Without vis we stop where we decide to stop and get 1000 feet of skiing. In Iceland. In July. Followed by a drive following a creek that opens up into dramatic waterfalls between fields bedecked by sheep and cattle.
North to Olafsvik and the ocean, we turn left to follow the coast around the tip of the peninsula. We hike up a smaller dormant roadside volcano drive through a national park bird refuge teeming with endless aerial beasts, stopping in the town of Arnastapi to glimpse water arches and Odin statues and eat Jules Verne-themed pizza from a restaurant with grass on the roof (the Arnarbaer). Fun fact, Iceland has more sheep than people, and almost as many pizza joints.
Back in Reykjavik it's still sunny at 11PM so we walk around neighborhoods in search of food and hot chocolate, finding a cafe just across from Hallgrimskja church. There is no sunset in the land of eternal sun.
Troll Expeditions Dragon Ice
Troll Expeditions has been around for a while as one of the top tour operators in Iceland and one of their tours particularly caught my eye – hiking a dragon ice cave. They call it dragon ice because it's in a glacier atop a recently-erupted volcano so the lava has melted it into a fine glass peppered with ashes. Jackson and I arrive at their headquarters in Vik after a quick stop at deafening Gullfoss Falls, near the geysers that make us feel at home.
I hadn't hired a ski guide since my backcountry ski experience would allow me to handle anything I'd take my son on. But ice adventures? In an unfamiliar location? Yeah, I had to go with a company. And Troll Expeditions stood out as the cream of the crop for their squad and adventures on top.
We drive down to a perfect beach day, sun strong over a glistening black sand beach. Maybe we should stay at the Hotel Vik I Myrdal? A quick cup of coffee for me and juice for Jackson at Troll's meeting place and we're joining the group outside, our guide and driver Maria Lagou explaining the itinerary and complimenting Jackson on his epic ski gear (we brought our own – I wore my Patagonia Untracked Jacket and my FlyLow Pants while he wore his full Volcom outerwear set, predecessors to the Breck and Barkley Kids Bibs) before setting off.
Maria gives Jackson the VIP seat in her super jeep equipped with a mechanism to deflate and inflate the tires for better access to this crazy terrain. She tells us she's Greek, the first Greek female to be a glacier guide. "I moved to Iceland for the silence and the peace," she says. "The only other place I've found such silence is the top of Mt. Olympus."
We roll over lunar terrain, stopping on an escarpment for a breathtaking view of the Katla Volcano before rolling down a steep road to the final approach.
We cross a small creek and continue up a wood bridge rigged to a series of steps into the ice cave, like one of those tubes through the shark tank at Mandalay Bay. It ends in a steep drop into a glassy crevasse where we stop for pictures.
We return to the car after Jackson spends some time popping in and out of the glacier, our shoes covered in volcanic dirt and ice. Maria suggests we get sandwiches from the supermarket and walk down the beach looking for puffins and we do so. On our drive back we pick up an Italian hitchhiker who says he's heading to the Dyrhólaey Lighthouse so we give him a ride and walk around, watching puffins zoom around below.
24 Hours of Sunlight
Going to Iceland, you get a new perspective on sunlight. Our great star is up all day and all night. The one night I went out for a drink at midnight, I walked home and it was still sunny enough to see my way home. Again, in the winter it's the opposite. But the summer midnight sun is something to behold.
That said, while it was sunny it never got about 60. In the summer. With endless sunlight. And mostly was a bit chillier. It's a great place to escape that summer heat, wherever you live. But it takes some adjusting. Translation: bring warm layers, any time of year. Walking around is always a little chilly. And when it rains, as it tends to do often on an island, you're really glad to have a Gore-Tex winter jacket.
What to Do in Reykjavik
Our final day we go shopping and take an educational trip around Reykjavik. Visit the Penis Museum, the National Museum, the Settlement Museum, and the gloriously dingy Icelandic Punk Museum. It's the perfect foreign city, with a metropolitan vibe without being overwhelming. You can walk it, and most nights we did so.
I get a Vegvisir Tattoo to keep me safe in storms. We shop for gifts, ornaments, and Hrns to drink out. We go to Apotek for dinner of alcoholic and non-alcoholic cocktails and Icelandic exotics: char, lamb tartar, puffin, and bacon of the sea. The food is superb, on point with anywhere in the US but there's places like Himalayan Spice and Mama with amazing Hummus, Old Iceland for their Lamb. You could hit up a seafood place on the waterfront for the ambience and fresh fish but we continue to Lemmy, in one of the oldest houses in Reykjavik, for fish and chips.
After our second dinner my son and I play endless arcades, the boy drinking OJ while I drink beer. The next morning, with the rain pouring, we head off for London, vibrating with the excitement of our Icelandic father-son adventure, my son Jackson asking if he can go to college here or at least we can buy a house in the land of Fire and Ice. We're already planning our next trip on the plane.
Related Articles: