The Kelly Canyon Ski Resort is nothing like larger ski resorts I mean, tickets cost $40 for the day, $32 for the half-day including the night, open until 9:30.
Kelly Canyon Ski Resort Review
The Kelly Canyon Ski Resort is a hidden gem, is a vestige of halcyon days when snowboarding was affordable and everybody was more concerned with having fun than looking cool.
We pop into ski patrol and get a quick rundown of all the touring spots off the top. "Do you have beacon, shovels, probe?" We nod; it's been a long time since anybody asked me that.
Lift supervisor tells us to lap chair 4, that's where the pow is. We ride chair 2 up and at the midway get off, cutover, quickly find snow that looks like it hadn't seen more than a few dozen people in the last few days, week, following it down to chair 4.
On Chair 4 we don't see another person for a while. Hills of low-angle pow. Few tracks. At 10 AM on a Saturday. Amazing. Mike lays in deep pow turns. I hop off the mini-glory diving board just below the lift chair that all the local high school kids have been straight-lining. Land on the only patch of hard snow on the whole mountain.
We ride rolling traverses – fresh corduroy at 1030, 11. A few steep shots line the runs but mostly it's cruiser pow. Wrap around on the Moose traverse; dodge families, pop off side hits.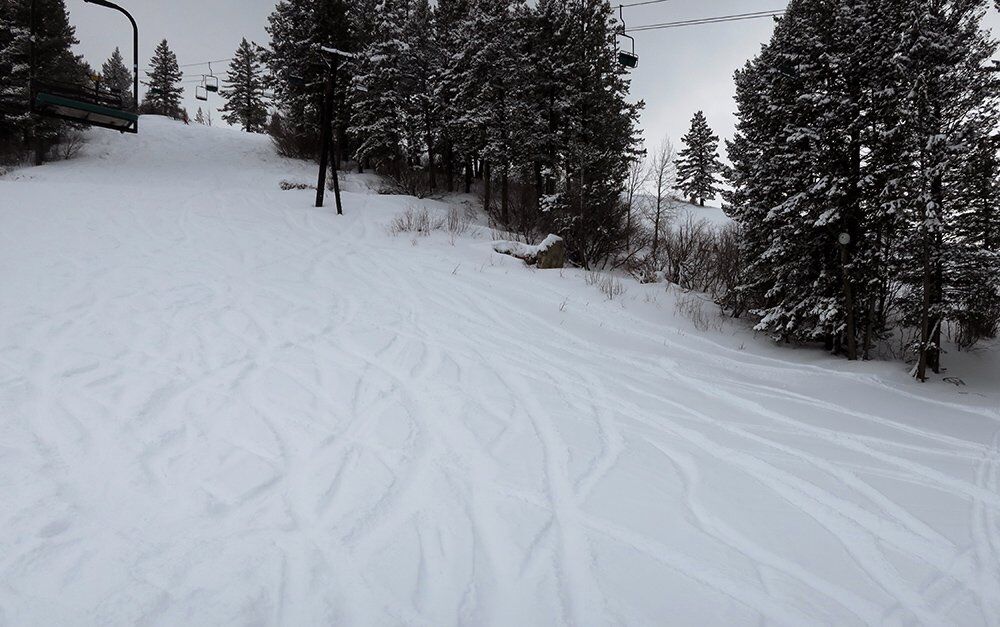 Step into a two-floor base building, upstairs balancing a non-kids lounge with a stone fireplace and old skis, a family lounge that smells like my son's daycare and a food joint. Neither lounge has much decoration; just massive windows. The mountains are the decorations. The hall connecting them is lined with old pics from a contest there in '94.
"Imagine if now you're some dad but you can still walk down the hall and see yourself shredding in the local comp in '94. Show your kids," Mike says.
We order $6 cheeseburgers and a "heart attack," chili cheese fries like the ones you get at the gas station outside Big Bear when you need a good hearty meal. So unhealthy. So good. So cheap.
We take the main lift up to the top one final time. Stare across a canyon where two guys skin above some wind deposits against the backdrop of the East Idaho plains and the windfields with the ghosts of mountains on the horizon. The road we came in on is scrub brush with crumbly stone and rimrock and here we are eyeing a few feet of pow. We ride along a ridge, finally figure out it goes to the Moose traverse, figure out this is just a long series of nearly-untracked amazing shots. Best turns of the day.
This is a resort that time forgot. When we ask the people at the register how they are, they say, "I wish I was out there enjoying all this fresh snow." No jaded scene here. Some local shreds but more high school swagger than snowbro scene.
"How do you think they found this mountain? It's practically the only one around with snow," Mike asks as he points to the ridges we pass that have deep snow and tracks on them.
"I think some cattle rancher chasing his herd noticed this one canyon had snow on it until June and probably told some skiers about it."
I've explored a little of the Big Holes on the other side, the Eastern Range. This ski hill on the Western Range speaks to the kind of mountains they are. Not as rowdy as the Tetons. A little flatter. Lots of soul, though. And hidden gems, if you look. That's Kelly Canyon in a nutshell.
Related Articles: