The sound of 4-stroke engines idling as trucks creep over snow and gravel amid men and women in dark Klim gear walking off stiffness gives the parking lot of Togwotee Mountain Lodge the feeling of an army camp pre-battle. Mike and I stop to caffeinate and hydrate; a sign out front tells me snowmobiles are to park on the hill and a fleet is lined up at the foot of Angle Mountain. Despite being only about 2 hours from my home, I couldn't feel much further from my world.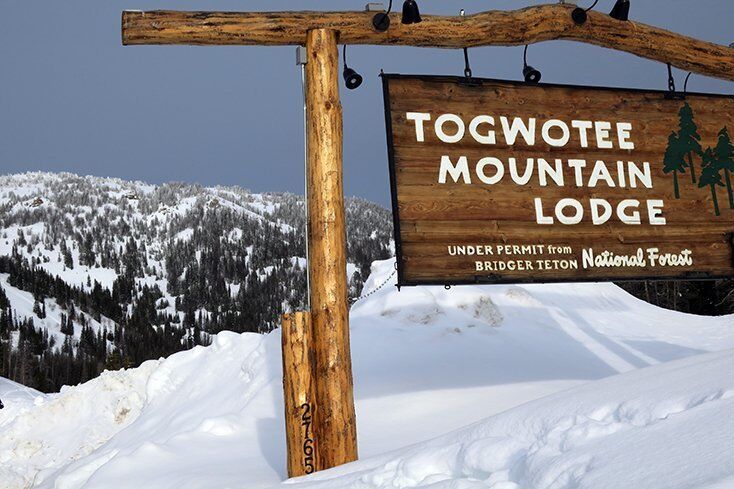 Mike and I drive up to the Continental Divide. Our nation's spine is a magical strip of jutting peaks that wind through the most secluded territory in the lower 48. We skin up sled tracks, take a left, dig a pit, push through blower to rot and up knolls to a peak that tops out at 10,658, a peak that for all I know is named 10658. On the ridge above tree line we take off our splits, billy goat over rock to a lonely wind-scoured summit, staring at endless terrain of spines and fluted mountains and couloirs and untracked bowls reaching to all horizons. A lifetime of exploration.
On the way back up after lap 1 (a gully descent over rapid-changing snow), we watch two snowmachines highline Radio Tower, one above the other on sketchy avy terrain.
"Well, either this is gonna be the raddest thing we've ever seen or we're gonna have to skin over there and dig out their bodies," Mike says.
Nothing fractures and they straightline near vertical to the summit followed by an idle slide back down. Their hoots echo across the canyon. As a snow worshiper, I can't help but be impressed. And our second lap of the day, ripping down the W/NW face, is the stuff dreams are made of.
"Imagine the possibilities you'd get from a season living at Togwotee Mountain Lodge…"
Back at the lodge it's whiskey with water backs at Red Fox Saloon, a place that conjures memo-ries of old sailor bars, the smell of decades of drink spilled into ancient wood and the ghosts of men and women who labor tough, play hard and drink harder. Nobody here looks like skiers, save the American Avalanche Institute instructor Mike knows who introduces his students: "They're Air Force."
Outside, a girl in electro-striped stretch pants, a puffy vest and an endless smile, a few brown strands escaping her beanie, is unharnessing a dogsled team. Her name is Abby, and she invites us to pet the pups as they bark and mow down water at their kennels at the end of the trail.
"It's a great way to have a job that allows me to play with dogs all day," she tells us. The team comprises Alaskan husky mutts, mixed with collie or herding dog. They do rides for people staying at the lodge who don't want to snowmachine but also for folks at Teton Village looking to take the day off. "Yup, we pick you up, take you on a dogsled trip, give you lunch, then drop you back off." The dogsled — the pre-snowmobile snowmobile. Family fun for all. But for us, next stop is the hot tub, navigating past rental cabins, some with snowmachines parked in front.
Togwotee Mountain Lodge Cabins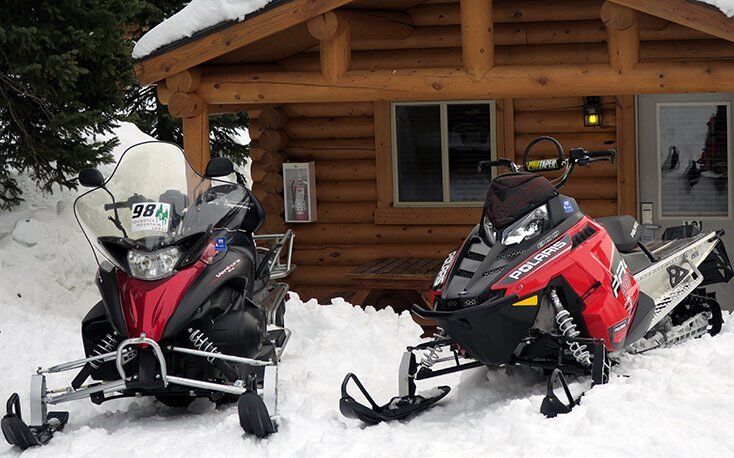 "Imagine just walking out your door, jump on your sled and roar off for 600 miles of groomed trails," Mike says.
"Yeah, and that doesn't include the ungroomed. Sledneck glamping paradise, for sure."
There's a party tub with a family and another with a couple. A sign on the wall says no drinks near the water; another sign says no glassware in tubs area, but the man with his 'biler blonde marinating in the first tub sip bottles of beer as they whisper in each other's ears.
A pair of slednecks who look like O-linemen for the University of Minnesota in beards and flow-ered surf trunks lug in a 30-rack of Bud Light and a twelver of Pakos. The couple leaves as more partiers arrive. We ask them where they went, tell them what we saw on Radio Tower, try to figure out if any of them were the riders. An older man, all tight gristle earned from a life lived outside anything resembling an office, tells us about hitting a stretch of 6 inches of snow on the way down from Montana in his tractor trailer, how he almost spun out. His son and his son's hippie friend tell us about the endless trails they cruised all day. Flatland midwesterners, Iowans and Minnesotans they tell us, people who would no sooner consider skinning up these mountains than I would consider high-lining them on a sled. We speak a different language. But good vibrations permeate the tubs as we sip drinks and soak muscles and warm up from the day.
Back at the lodge the rooms are rustic elegance. Showered and changed, I sit on the front porch of the lodge, taking in the air: swarms of sleds roar in, the electricity of a biker rally at 8,600 feet. Then it's back to the Fox where one beer turns into 3 or 4 with whiskey. I order the Wyoming ribeye, highly-recommended, with herbed lemon butter but Mike's Braised Berkshire pork wins the prize. This would be 5-star cuisine anywhere; in the middle of nowhere it's divine. Wash them down with buffalo wings, backed by water and beer.
Talk to sledders at other tables about snow conditions, about slides old-timers had seen ("I've been coming here for 28 years and only seen one slide on Breccia"), breaking barriers. There's an animosity between self-powered and engine-powered mountain players, even though skiers and snowboarders often use sleds for access as well, but not tonight. The feeling of otherness is still palpable; this is the Great Divide, not just geographically but also philosophically. Togwotee Mountain Lodge, owing to its sled bent, seemingly attracts a conservative midwestern crowd compared to the liberal (or at least libertine) coastal upper-middle- to upper-upper-class skiers and snowboarders found down the road in Jackson. Yet we're all hearty folks who'd rather spend our free time and money to play in the wild snowy alpine with whatever tool we prefer; all folks who dream of super-charged pickups instead of Italian roadsters. Drinks flow and I catch even the slednecks bobbing their heads to Mike's jamband party town juke box hour.
"I've just stopped here so many times on my way home from riding up here and always wished I could stay. This is so good," Mike says and I nod.
To sop up the hangover there's a buffet breakfast loaded with eggs, bacon, sausage, pancakes, biscuits and gravy, and, for people who aren't me, things like fruit and yogurt and granola.
There are few sleeper ski meccas better than Togwotee Mountain lodge. Given the near-absence of skiers and riders, there's a great chance you'll score first tracks in your front yard. Something beautiful in being able to stroll out the front door well-fed and well-rested, throw on your skins, and take off for Angle Mountain, named after the first couple to build a tent village at the spot. It's a quick run to the top for us; the sun baked the snow the day before and then it froze under a few inches of dust but we still find fresh turns, mini-hucks and pow gouges with Teton vistas that put JH magazine ads to shame. Two days of first tracks, good drink, 5-star rib-sticking Wyoming food, great people. The perfect staycation for the local tired of bro crowds; just as good for the backcountry rider flying to Jackson, Wyoming but looking beyond the tracked-out Tetons. Gotta be the best wilderness snow access for a full-service hotel in the lower 48.

As we hit the road for home, Mike and I make a pledge: Next time, we're gonna get some ma-chines, open 'em up and see how the other side lives. Because hell, shred or sled, we're all just out there trying to leave civilization behind and get a few kicks before we die, right?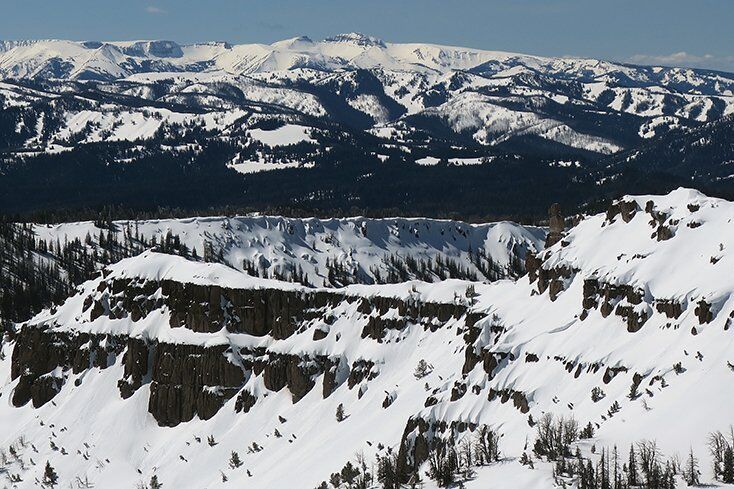 Related Articles: