When you think "road trip through the Rocky Mountains," you might imagine tent camping, staying in rustic roadside spots, roughing it through the wild. And sure, that's fun. But there's something about staying in nice lodging that brings out the majesty in one of the world's greatest mountain ranges. And these days there are a lot more amazing choices to check out than there were when these cities were mining camps, ranch towns, and immigrant stopovers.
Luckily, we at Mountain Weekly News have scoured America's backbone to highlight some of the most sought after destinations from Colorado to Utah to Wyoming to Montana. It would be a perfect way to plan your next great Rocky Mountain exploration.
Best Rocky Mountain Lodging
There is some great history in what used to be the wild mountain west. Old hotels from a century ago, or maybe even more, fill the great state of Colorado. And plenty of those grand hotels have been fixed up, blending something sumptuous and new with something old and decadent. Enter the Hotel Boulderado in Boulder, CO. It was started in 1906, and in 1908 they had their first New Year's Eve Ball (echoes of "The Shining," even if that was a different hotel). The city landmark has grown ever since, restoring its elaborate glass ceiling along the way, sprouting new bars and restaurants, updating here and re-polishing there.
Looking for a romantic evening that shouts out into the heavens? Check out the Stargazer Package. You get 1 night and their star kit. That means you get to take home two keepsake thermoses, blankets, and a digital star chart. You also get suggestions for where to get a good view and certificates for pastries and coffee from Boxcar because stars are always better with something sweet to eat alongside your sweetheart while the coffee warms you up and keeps your engines ready for when you decide to put the stars to bed.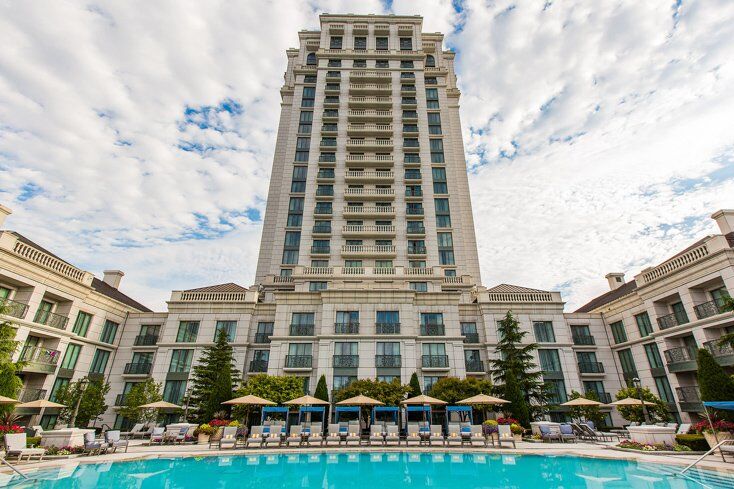 In Salt Lake, it seems like when you're talking about luxury hotels, there's the Grand America and then everybody else. There's luxury and then there's LUXURY. I'm talking about spacious rooms decorated like a guest room from that stately old money mansion in your dreams. Cherry wood Richelieu furniture and English wool carpeting are complemented by the Italian marble bathrooms. Despite all the old-world opulence, though, this majestic white pinnacle on a hilltop soaring before the mountains recently completed a big project to considerably drop their energy usage.
Of course, when you're traveling in luxury, you expect to be pampered and to eat well. The Grand America has you there too. The Grand Spa was given a 5-star rating by Forbes in 2021. The pool is amazing for a little dip but when you get to their spa treatments – I'd suggest the epic CBD Massage myself – you'd be hard-pressed to find anyplace better, anywhere. Then for dinner pop into the Laurel Brasserie for a casual classy European breakfast to a truly indelible, meaty dinner. The Bonne Vie has decadent coffees and pastries while the Gibson lounge's gastropub treats and fancy drinks make it a perfect for any power meal, or even an excuse to dress up nice and reconnect over a few drinks.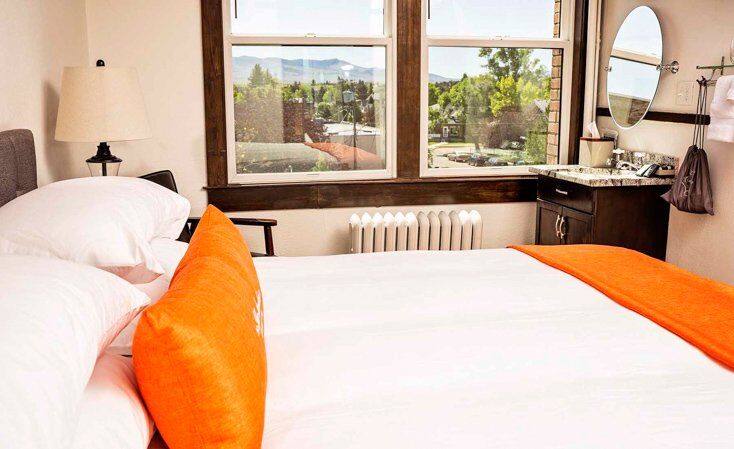 Montana has popped back up on everybody's radar thanks to "Yellowstone," and for good reason: It's a magical state, one steeped in legends and pioneering, entrepreneuring iconoclasts. Check out the story of Harry Andrus selling his sheep ranch in 1916 to build a Renaissance-revival-style hotel in the burgeoning city of Dillon Montana. That became the Andrus Boutique Hotel. It had 80 rooms, a billiard parlor, and a Great Dane trained to be a bellhop. Today those old bones and that timeless architecture wraps around a modern, well-renovated boutique hotel. Like, all suites on the 3rd floor rooms boutique, perfect for being impressively hip but old-timer at the same time, especially if you're actually neither.
The rooftop deck is insane, with ridiculous 360-degree views of the old Montana mountain town. And while some hotels have a bowling alley in the basement, the Andrus has an indoor archery range, with an archery pro to bring out your inner bowmaster. It's the best base camp for adventures into Montana where you can live out your "Legends of the Falls" Old MT dreams. Then there's the owners' guide book, which is just as wild and classic (and classically ironic?) as the clawfoot tubs. Yeah, for a real Montana experience with luxurious boutique feel, there's no place that hits the mark like the Andrus.
It's tough to be the top hotel in Jackson, Wyoming, these days. But the Cloudveil does just that, somehow seamlessly blending mountain rugged with new-build luxury, right on the historic Town Square. From the wood-carved trophy skulls in the spacious lobby to rooms that drip luxury on a, like, London-Paris-New York-L.A. level, there's nobody who pulls off real, modern mountain luxury like the Cloudveil.
Add in a pool and hot tub staring at the square (try hanging out in the hot tub when there's a band playing at one of the many Town Square fests and you'll be transported to Valhalla) and a rooftop deck with the best views in Jackson and you've already blown away the competition. Then there's the restaurant, The Bistro, the reiteration of one of the town's beloved haunts, with food and a vibe so good and authentic it attracts more locals than hotel guests. Though I'm just good with drinking in-room Nespresso sitting in bed watching TV playing above the roaring in-room fireplace.
You like camping but the partner isn't really into roughing it; you want to be minimalist but don't want to sacrifice comfort and cleanliness; you dream of living in a tricked-out camper near a beautiful corner of the country; you want a new experience in nice lodging. Any of those sound like you? Then check out Roam Beyond Travel's amazing glamp-esque corner of heaven.
Just outside Glacier, on the Flathead, with Whitefish amenities and a good communal vibe. It's the kind of place you don't want to leave. With your own slick wooden camper, your heated bedding, and all the adventures, you can blend rugged adventure with luxury – but not overwhelmingly so. It's so epic to hop on your bike and cruise up the road, possibly to the sun (probably the nicest national park road anywhere in then Lower 48). They curate your experience for you and your people to a level where somehow ruggedness and comfort go dutch on your weekend. The Roam is a perfect place to end your adventure up America's great range, and a must-stop destination if you wish to explore one of America's greatest national parks.
Check out the video from our trip to Roam Beyond below.