Two of my favorite things on earth are snow and snowboarding, especially at the Wolf Creek Ski Area. Because of a recent injury coupled with avalanche fatalities that have hit too close to home, I spend most of my time inbounds.
For six seasons, Vail Mountain was my home base, and I got several seasons of 100 plus days of riding. I've since moved to Durango, and my home mountain is now Purgatory with Telluride, Wolf Creek and Silverton each being close-by mountains that I ride several times a season. There are many pros and cons to both large and small resorts, and although I can see the appeal of heated sidewalks and gondolas with Wifi, I've come to prefer small privately-owned mountains with unobtrusive features and structures that have been there since the inception of the resort. Wolf Creek Ski Area is no exception to that developed appreciation.
Wolf Creek Development Plans
To the Colorado ski world, Wolf Creek is synonymous with big snow. There are very few cuts and groomed trails, and most of the terrain is tree skiing and hike-to bowls. Consistently reporting the highest snowfall in Colorado every year, I have had countless double-digit powder days at Wolf Creek and have had more 20+ inch powder days there than all other ski resorts I've ridden combined. Since there is not much traffic at the resort, fresh turns can be found four or five days inbounds after a storm. Am I giving a secret away? Not really.
This is the place powder snowboards were built for. Your regular board just won't cut it, think heli skiing!
Towns near Wolf Creek
Tucked away in the southwest corner of the state, Wolf Creek is on a mountain pass on Highway 160 between the quaint towns of South Fork and Pagosa Springs. It's a mountain so infrequently traveled that you will start recognizing the other skiers and riders by your third run. La Plata County airport outside of Durango is the nearest airport located 105 miles away. Denver and Albuquerque are the closest gateway airports and are 275 and 200 miles away, respectively. Given its accessibility, only locals, serious skiers/riders and powder hunters are the folks that generally ski Wolf Creek.
Wolf Creek Ski Area's southern location makes for easy traveling for the tourist from Texas. I think this is how Red McCombs discovered Wolf Creek. I think. I'm getting ahead of myself, but I expected to find a passion for skiing, a story of childhood trips to Wolf Creek, a love for snow to be reasons for McCombs, a Texas billionaire who has owned the Minnesota Vikings, Denver Nuggets and San Antonio Spurs, to want to build an 8,000 person luxury resort on Wolf Creek Pass. Why else would someone want to build a resort in the middle of nowhere next to a ski mountain that the average skier would have no interest in going to? I have found nothing, however, not one article describing Red's passion to ski. Then why?
Let me back up. This isn't just a story of my love snowboarding and the outdoors or a rant against unnecessary development. This is a story of how a rich billionaire from out of state could reach his tentacles down to our local officials who were supposed to be protectors of our pristine and precious land.
Red McCombs Wolf Creek Plan
It's a 30-year fight between the communities of the San Juan Mountains and Red McComb's and his team that began in 1986. It started as a plan for Red McCombs to build an 8,000 person village (the Village) on Wolf Creek Pass. After the original in 1986, it was determined that there was no access to public roads to the original land space of the Village. After trying various ways of gaining site access, in 2014 the US Forest Service (USFS) did another land deal with the developer and as a result, public roads could access the new land. However, in 2014 environmentalists, lobbyists and locals questioned the impact on the precious wetlands surrounding the new land. Using laws surrounding the Freedom of Information Act (FOIA), community activists requested documentation of the processes determining that the construction of the village would comply with environmental laws. Ignoring the FOIA requests, the USFS and McCombs continued to obtain approval on the process of construction of the Village.
However, in 2015, a judge ruled that the US Forest Service inappropriately withheld documents from the public and ordered them to produce the documents. Finally, in November of 2015, 60,000+ pages of Forest Service documents were released. Some of the quotes from the documents and emails are as follows:
Thomas Malecek, who was a district ranger at the time of the email wrote on August 24, 2012 about Dan Dallas, who was the Rio Grande Forest Supervisor at the time, "Dan's main concern wasn't the letter, but the emails around the letter that might be a little damaging in the event they are not all deleted in case we get a foia … remember we are swimming with sharks and need to keep the emails from even the remote appearance of whatever, so make sure you burn this once read!"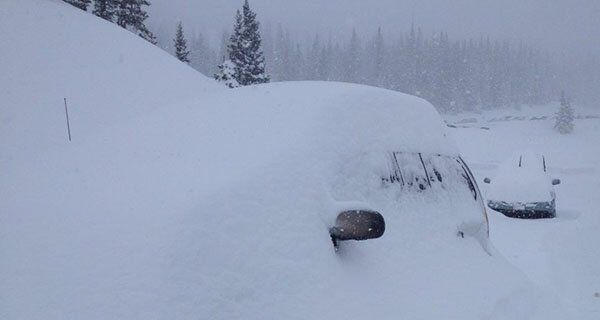 "I'll have (our lawyer) send it electronically through an email … so it will remain attorney-client privilege and not subject to FOIA," Randy Ghormley, a wildlife program manager, wrote. He also asked his employees to communicate via "hardcopy so it would not be subject to FOIA" in an email chain about environmental impacts the Village would have on endangered species and remote wilderness.
Although we cannot see exactly what was discussed because of the attorney-client privilege laws and because documents were intentionally concealed by legalities and document destruction, it is clear that the Forest Service was trying to hide something. It makes me sad that I cannot trust our local government officials who are paid (by us!) to protect our land and act on our best interest and the interest of the protected land.
And it still raises the question, why does Red McCombs, a man who has already owned several professional sports teams and is currently trying to buy the Oakland Raiders, is already a billionaire and ranked among the 1,000 richest people in the world, and is 88 years-old want so badly to build a village on Wolf Creek Pass?
If somehow this goes through you could always don a pair of snowboard skins and go skin up the backcountry near his property. Ski in ski out for everyone?
Our tiny mountain that is hard to access, has no nightlife, not very many easy runs, and arguably, for the fair-weather skier, has too much snow. Why? At this point, I think he just cannot be told "no". It's a pissing match, and he'll fight it until he dies. I've got no doubt in my mind that this community will fight for as long as it takes.
Related Articles: