The 686 Hydrastash Snowboard Jacket is meant to keep you warm and dry while the Thermograph delivers style that stands out on the hill. But what they really shoulda called this is "man, this shred jacket really prevented my shred day dry-mouth". With GORE-TEX outer and as many features as a premium pickup, the GLCR Hydrastash is really the only resort jacket you'll ever need.
GORE-TEX Hydrastash Jacket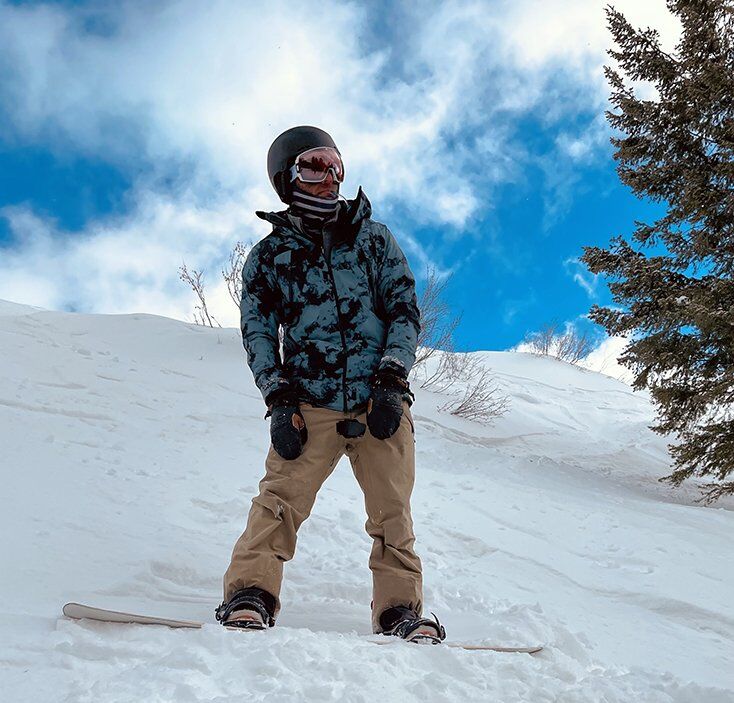 So it's got that 2-layer Bluesign GORE-TEX Nylon outer that you need for a good weatherproof jacket. Then there's the Merino Wool Blend Inner Collar and an RFID blocking inner pocket, and the collar heat pack "Hot Pockets" to keep you warm on the coldest chairlifts, when that hail shoots up your neck – you just put hand warmers into this pouch and it works wonders. The Air-Flo Chest Vent pitzips are huge and dump heat on even your rowdiest slackcountry ventures. There are pockets down low and on the arm.
But the real innovation? Of course that Hydrastash. When hydration packs first came out I was living in Colorado and it was cool to wear the things. But as time went on, it dawned on me that it's kinda strange to rock a backpack on resort hotlaps. Then 686 came up with the Hydrastash. A 25-oz. bladder stretched along the bottom of the jacket that zippers up inside so that the jacket feels like it weighs nothing, with a hose that makes its way up your zipper to come out of the top of your collar and right into your mouth. Instant hydration all day long.
686 Hydra Jacket
I've rocked this jacket all season at Grand Targhee. Which seems to have the most snow of anybody in the Rockies based on the license plates I've seen. But it's been as warm and windy as you can imagine, and Grand Targhee in a normal year is pretty snowy and blowy. The jacket keeps off the snow and is heavy enough to wear with a base and a light mid and stay warm on the coldest machine-powered peaks, which feel at least 20 degrees colder than anything you tour to.
Though on a quick hike up Mary's, it never overheated with the zips open. Like, not even a little sweat. And while rocking the resort all day I got thirsty. With the covid, water fountains suddenly seem dirty. Which is why I loved being able to take a sip off the Hydraflask nipple. Which also leads to my only disappointment.
My water has frozen up a few times. Try biting it but the freeze can go down the line. So I learned that I need to make sure it's tucked into its zipper at all times. Or else you're riding with a bag of water hanging off your jacket and no way to drink it.
Once I figured out how to keep my hose from freezing, I truly fell in love. A jacket that's super waterproof, warm enough for airy chairlifts, with enough pockets to fit everything I need all day.
Overall Impression
Do you want a jacket that helps you crush the hill bell to bell and that delivers just the right amount of protection, warmth, and features? This Men's 686 Snowboard Jacket – GLCR Hydrastash Jacket ($379.95) is as techy and as comfortable as it gets, as full of practical tricks as it's full of steeze, and it has water. Killer.
Yeah, I like being able to sip water out of my jacket bell to bell.
Related Articles: