Swift, smooth, dry and deep, that's the goal of any big adventurer and the Asolo Arctic GV delivers just that. These water resistant boots have the beefy lugs and the bombproof outer to withstand even the rowdiest weather Old Man Winter can throw at you.
Halfway between a burly mountaineer boot and a Gore-Tree hiker, the Asolo Arctic GV Boots is absolutely perfect if you live in a place with big weather swings and if you don't, then these just might be great year-round.
GORE-TEX Insulated Footwear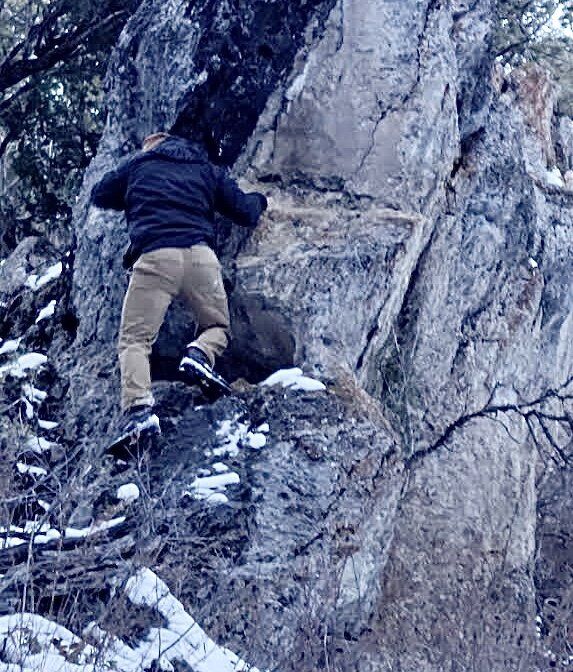 Yeah, the Italians are known for making footwear and Asolo climbs seamlessly into that discussion. The Arctic GV is literally wrapped in the best stuff known to mankind. GORE-TEX Insulated Comfort textiles keep your foot dry even if you step through a frozen puddle. PU rand to keep from getting rock puncture wounds. Recco, making this one of the first boots I've tested with the location tech. Meanwhile the Vibram Ghiaccio rubber outsole grips rock almost as well as approach shoes, and certainly better than any beefy winter boots I've ever tried.
But rubber doesn't stick to ice and it's always been my ultimate issue with big lugged boots in winter, especially on rocky shoulder season madness. Asolo's got a solution for that: the Arctic Grip compound is a special, game-changing Vibram technology made to get your rubber sticking to wet ice and slippery snow better than basically any non-spiked boot sole before. But how did it work?
Harsh Weather Hikes
Yes, the middle of the winters can get pretty crazy in the Tetons; however, I'd argue that the shoulder seasons are tougher on gear. Frozen rain is horrible for everything. There's not enough snow to climb that yet but the rock has snow on it and snowy approaches. And water's frozen, on the surface, but still wet under the cover so try not to step through a puddle.
I've worn the Asolo Arctic GV's all over local trails and little scrambles during this ugly mud season partial-freeze. Right out of the box they felt a little tight but I was surprised with how well they broke in over a couple days wearing them around the office or on short walks. They're a little tight over my forefoot, but not painfully so and it should be added I have wide, flat feet.
But taking them out has been a true pleasure. I balanced on ice snowy stumps and scrambled on rocks, noticing better grip in these over other mountaineering boots (and I had taken that other pair up the grand). In part that comes from their smaller profile and build, giving a beefier boot in a slimmer form. They don't sacrifice performance.
Asolo Arctic GV Waterproofness
I stepped into a frozen puddle in my Asolo Arctic GV boots. Taking my job as a gear tester seriously requires true commitment, so I got a couple miles back on a 34-degree day and stood in the submerged water limned by snow and ice to see how these boots actually hold up. The answer? They did amazing with it's GORE-TEX Membrane. As in not getting wet, and it took more than a few minutes before I started getting cold.
When I got home, they came off so smoothly thanks to the webbing lacing system, despite being muddy as hell and high up my jacked ankles. Yeah, the Asolo Arctics are nothing short of amazing.
Overall Impression
These Asolo Arctic GV's ($325) are really comfortable and comparatively light but pack a lot of bombproof tech into their winter foot-huggers. They're like cruising around on an ATV, quick and light, able to adapt to anything you hit on the trail. And I'm seriously just blown away by how much water they can handle as well as how much grip they get on ice.
I wouldn't recommend these for serious winter mountaineering, but if you're ever playing with just enough ice and snow to make it sketchy and Cole, the Asolo Arctic GV's will become your best friend.
Related Articles: