DC Shoes must have read one of my reviews about how I destroy boots when they developed their Shuksan boot. No, probably not. But the DC Shuksan Boot is such a perfect freestyle resort boot while still holding onto support and responsiveness that I couldn't imagine a better single boot for splitboarding and resort ripping, literally every hill.
DC Double Black Liner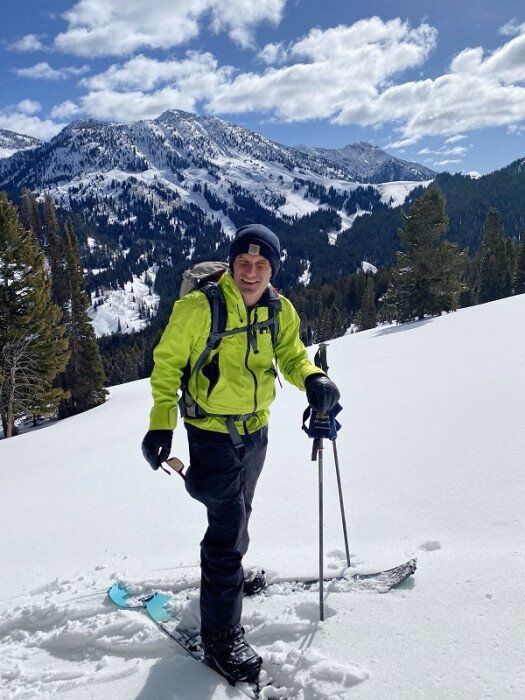 How does DC put together a boot named after the hallowed grounds of Mt. Baker?
You start with their Double Black Liner and that cinch tie to lock it around your foot. This thing is warm and comfy, down to the sole re-Purpose insole, compromised of 100% recycled EVA with a TPU molded arch support. Once it's hugging you up to the shins, then DC throws on their outer.
The leather tongue overlay locks it in tight for the back and forth. But where the real magic happens is with the strategic Carbitex throughout the boot, giving you a boot that's super stiff and responsive without adding all the extra poundage of any other boot that could compete with it. And DC locks it all in with the Boa Black SS laces and a Double Boa H3 Coiler Closure System made to perfectly dial in the laces from registering ankle movements to cutting out shin bang.
Vibram Soles
And then down to the sole there's a Vibram outsole with a "Push Zone" tread pattern to help you kick through the lift line or on that backcountry traverse skiers love to take you on. And there's this Internal Heat Foil keeping your feet from the bottom, almost like a toe warmer can.
I first busted out these boots at the end of a massive February. And from tromping up the crumbly booter to flying downhill through dreamy pow. And then the snow gods shut it off. Soon the Tetons were filled with coral reefs, and my boots were put to the test. Hard snow doesn't forgive anything, and you need every bit of leg strength to be able to turn when the variable turns into ice. I was amazed at how well this super-light, resorty boot handled all the big freeze up here.
Then there's that frozen rain that's snuck in for a few small storms. Since the DC Shuksan Boot is named after the PNW, of course it fended off all the wet and cold snow blowing in. I've had issues for the last few years with frozen toes and these fended it off like the fire.
Then I took them into the resort, busting out some hot laps. Even lining it up from the park to side hits to 3s off cat tracks (onto, unfortunately, windboard more than a few times).
I've never had boots that were so stiff without feeling clunky; that did so well on the bootpack and just as well in the park. Everybody talks about a one-board quiver but I'd say a one-boot quiver is as important.
Overall Impression
I'm a recovering meathead who's all about power leg riding. With a SoCal park rat history. And I love this boot. It's firm enough to handle all the big hikes while dialing up responsiveness. But you know what the DC Shuksan Snowboard Boots leave behind? They leave behind weight; a big mountain power and freestyle boot that don't bog you down and feel like mountaineering boots? That's some Pac NW magic. The DC Shuksan Boots ($399.99) are perfect for literally every condition for a rider who needs every bit of support, responsiveness, and power transmission through every turn in every condition.
Related Articles: