Say hello to the new Heybike Horizon Foldable Fat Tire E-Bike! The electric bike comes fully loaded with front and rear suspension, wide 4.0" tires, and the ability to collapse down during storage or transport. Heybike's product launch offered a sneak peek of the Horizon model while Mountain Weekly News recently got an in-depth first look. Check out all our thoughts on the e-bike from our comprehensive test ride below!
About Heybike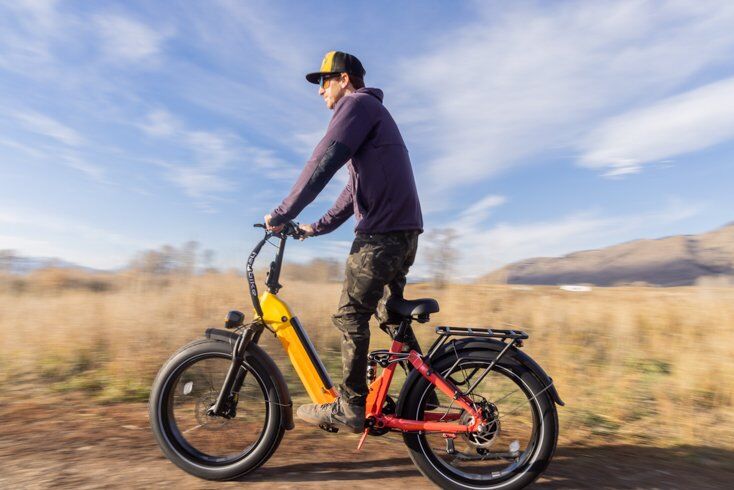 The Heybike brand was welcomed into the e-bike industry in 2021, making it a relatively fresh entry to the crowded field. The company focuses mainly on sub-$1,600 electric fat tire bikes with some burly city commuters also available. The e-bikes' wide tires and accessible price points make those models attractive for comfortable recreational riding on a budget.
It's worth noting also that Heybike isn't the same as Haibike, a long-standing German electric bike brand based in Europe with significantly higher-end products.
Full Suspension E-Bike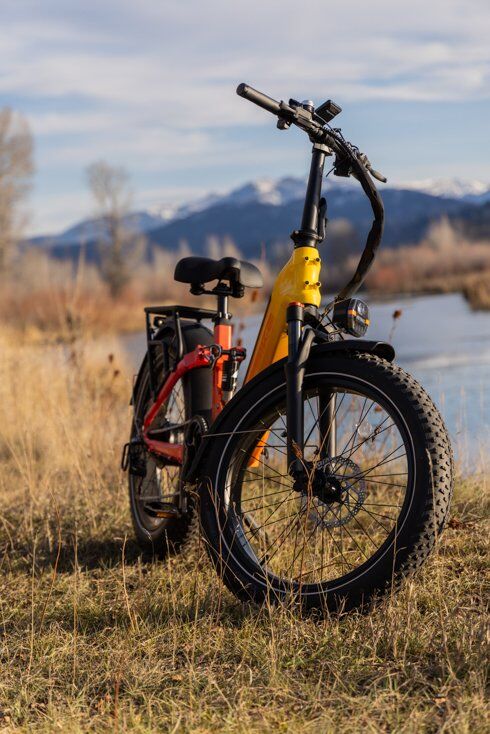 The Heybike fleet already includes several foldable fat bikes, but the all-new Horizon model is the first true full-suspension offering. The Tyson model also has a rear shock, however, it provides significantly shorter travel. The Horizon has a Horst-link suspension system with a decently plush rear shock and short-travel front fork.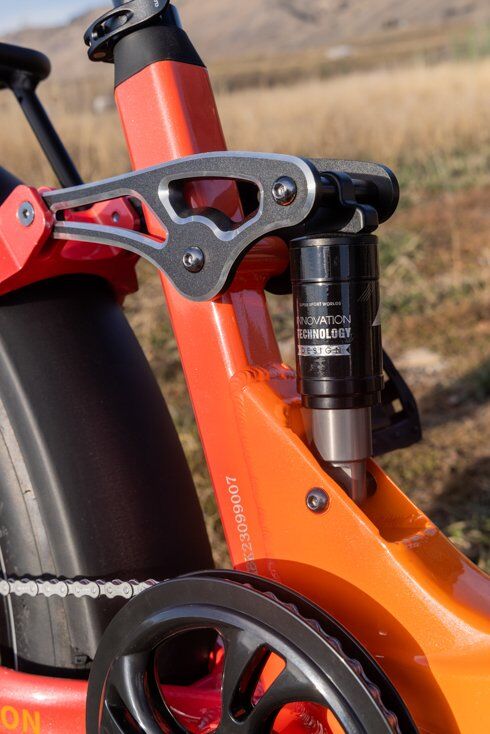 It's nice to see a full-fledged rear shock on such an affordable bike instead of opting for a cheap, compact shock that would simply add weight rather than noticeably improve suspension performance. Combined with the high-volume fat tires, the Horizon is a super comfortable ride around the city and light off-road terrain.
Weight
Put all together, the Horizon boasts an impressive package that covers nearly all the bases— electric, foldable, full suspension, and fat tires! Many casual recreational riders could do with a simpler bike that meets all their needs and is lighter than this 79 lbs. workhorse. However, off-road adventurers and delivery riders will love this go-anywhere e-bike that can fold down to save space.
There's a foldable hinge in the middle of the frame as well as along the steer tube. The Horizon has a maximum payload capacity of 330 lbs. including the rider.
Frame Size
This Heybike step-thru frame design makes it easy to hop on and off the bike and we really enjoyed the great "sunset" paint job— seems like that's the only color offered and it makes sense with the model name, of course. The one-size-fits-most frame is recommended for riders between 5'5" to 6'3".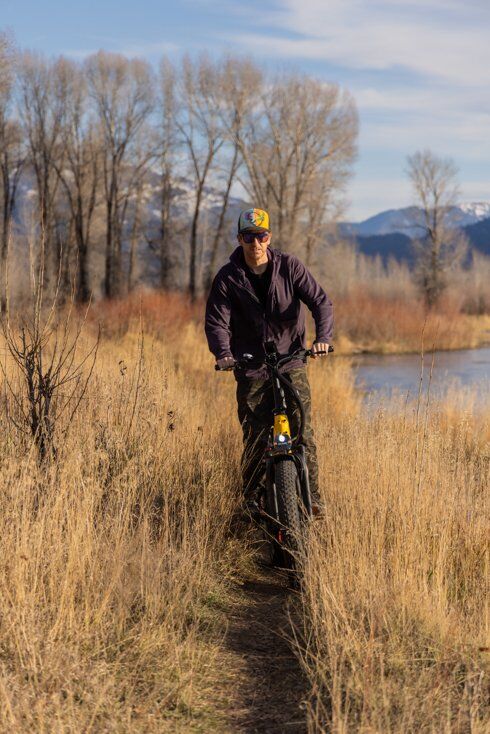 During testing, the Horizon was a total blast to ride. It's easy to ride straight away and offers plenty of performance without feeling like too much bike, something that can happen with these do-it-all e-bikes.
750W Motor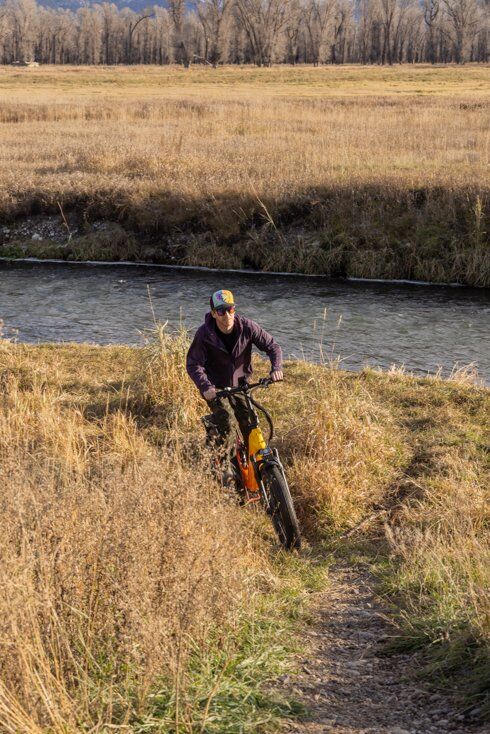 The powerful 750W rear hub motor pushes the Horizon e-bike along up to a top speed of 28 mph. Riders can toggle between pedal assist levels and throttle mode depending on their needs and how much pedaling they want to do. The bike's handling stood out during our test rides and was fun to zoom around with excellent acceleration. The Horizon is a hefty e-bike but the step-thru design keeps the center of gravity low to the ground and a bit easier to maneuver, even for smaller or shorter riders.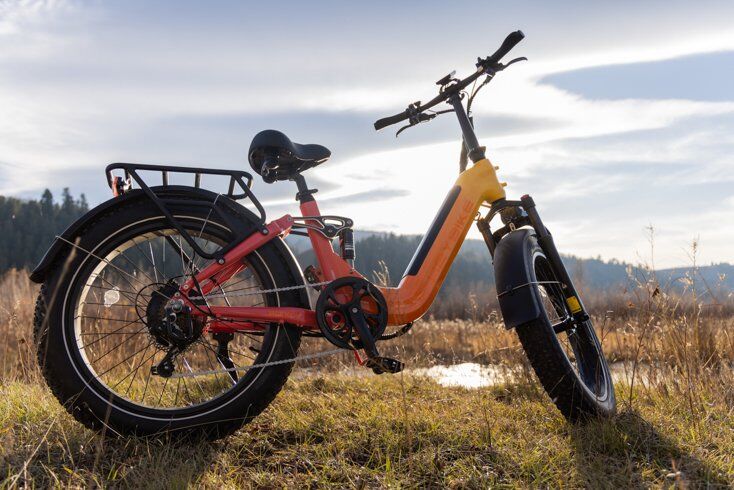 The 14.4Ah lithium-ion battery is neatly integrated into the sunset-colored downtube. Heybike claims it provides up to 55 miles of total range using pedal assist and 30 miles on the throttle. The included 4-amp charger cuts the charging time nearly in half compared to many of its rivals, allowing for a quick 3-4 hour charging time. That's super convenient for riders who are constantly on the go or occasionally forget to plug their e-bike in for the whole charging cycle.
Components
Riders can shift gears with the Shimano 7-speed drivetrain and find their ideal cadence while using the pedal assist. We were glad to see hydraulic disc brakes included on the Horizon rather than lower-end mechanical disc brakes, especially for such a heavy bike with serious momentum.
The 24" wheels are larger than many similar fat tire electric bikes that have 20" fat tires so, while they make for a larger bike, the bigger wheels help out on the trails. The 24" splits the difference between traditional 26" fat tires and compact 20" rims designed for city riding where space is at a premium. The 4.0" fat tires are decently knobby with a reflective strip along the sidewall.
E-Bike Safety Features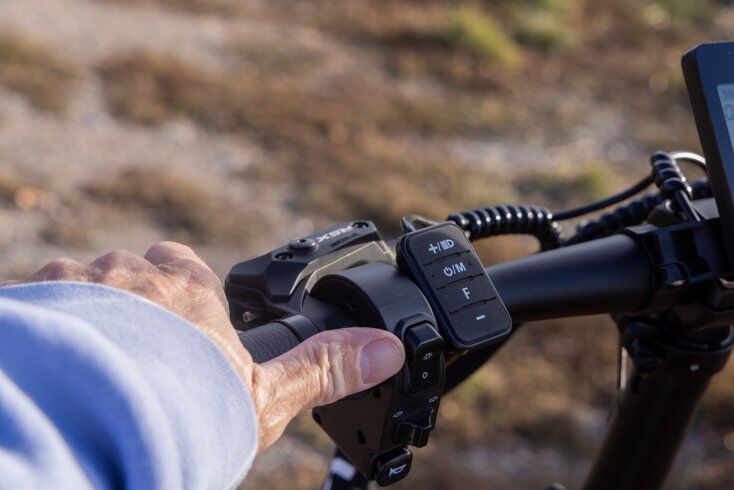 The Heybike Horizon also stood out because of its advanced safety features. We didn't expect so many cool touches in such an affordable e-bike, so it was a nice surprise to put the features to the test. The large headlight and rear taillight turn on automatically in low-light conditions so you don't have to worry about fussing around with buttons. Even more, there are turn signals to indicate your next move to surrounding cyclists and motorists. The built-in horn is controlled on the handlebars and is loud enough for city use.
At the front of the bike, the steerer tube also folds down when collapsing the bike down. There's the option for riders to add a front basket if they need to carry additional cargo beyond what fits on the large rear rack. The bolt-on rear rack has a massive 120 lbs. weight capacity so feel free to load it up with panniers or other accessories. However, the oversized cable cover is a bit of an eyesore and could be easily replaced with some thinner cable ties or wraps.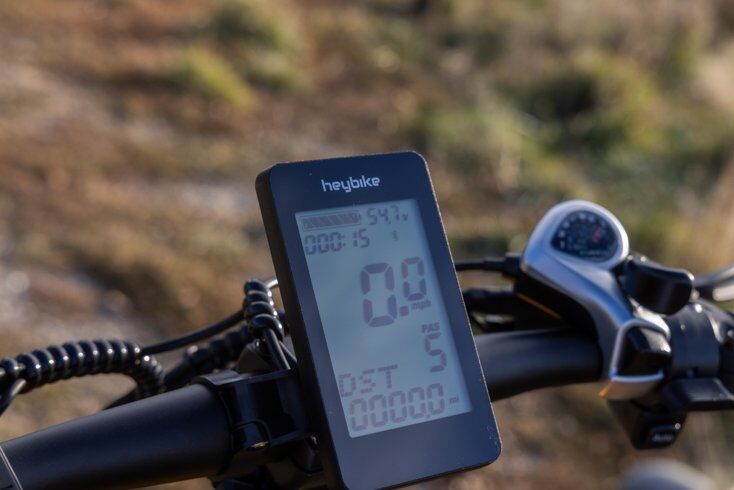 There's a centrally mounted LCD screen to see simple ride metrics like speed, distance, and battery life. One complaint is that the display is definitely an older style and appears to be outdated tech compared to many of the other e-bikes on the market these days. My hunch is that Heybike is trying to use the last of the stock before moving in the direction of newer screens like the rest of the industry. For some cooler tech, riders can take advantage of the user-friendly Heybike app to quickly adjust bike settings and use real-time ride tracking.
Overall Impression
If you're on the hunt for an all-in-one e-bike solution, the Heybike Horizon ($1699.99) offers serious performance at a great price. The comfortable setup feels at home on recreational bike paths and streets, while the full-suspension package can tackle off-road routes with ease. Simply hop on and ride off into the sunset on the Heybike Horizon!
Related Articles: