After its initial release for the 17/18 season in the popular Quiver line, the Nitro Squash quickly became one of Nitro's best selling boards, and a team favorite. It's since expanded on the original two sizes into a full range for men, women, young guns, and splitboarders. You've probably seen it on the side of Austin Smith's firetruck, flying through the air at Bachelor attached to Jared Elston, or perhaps under the feet of Griffin Siebert as he splitboards for Backyard Boogie lines.
The temperament of this board is along the lines of something Temple Cummins might tend to like – strong and silent; smooth like a Cadillac, and quite capable. It floats, it flows, it carves, and is an excellent choice for directional riders seeking to ride fast in all terrain & all conditions. I ride it as a daily, or it's a perfect second board for camber lovers with an affinity for fresh snow. Aptly named, the Squash truly squashes everything.
Nitro Squash Shape
Between the contact points, despite the overall aesthetic, the Squash is not the super directional board it may appear to be. This plays a major role in why it really rides quite well all over the mountain, even in park situations, and excels on groomers. Naturally, in fresh/soft snow, the long shovel of a nose kick comes into play, in conjunction with the mini swallowtail, slight taper & setback to end up with a shape that floats extremely well, as if that comes as a surprise to anyone. As for going backward, don't expect it to be too proficient due to the notched tail, but it has enough length and just enough rise to keep it together for switch landings or takeoffs, and capable riders should have no issues.
The body of the board is a stiff medium to support strong riders and high speed all around. The nose is confident and strong, and does not feel like it wants to fold in varied terrain or thick snow, which has been a gripe of mine with certain other freeride-focused boards. The somewhat lower nose rise and gentle transition adds to the smooth Cadillac temperament, gliding over wherever you point it. The firm-flex tail has plenty of surface area for its length, despite the visual appearance, and feels quick and snappy like many cambered & tapered "powder" boards tend to. Some decks are full of energy and very lively, while others are very damp and feel beefy – the Squash is somewhere in the middle, in that it's got good energy and a firm feeling to its pop, but remains very planted and secure.
Flex
On most scales, I would give the Squash between a solid 7 & 8 flex depending on board size vs rider weight. Most people tend to think it rides on the stiffer side. Many say it rides a bit bigger than advertised as well, but I would instead say it is strong and not undersized for the advertised length. I would normally recommend going with your typical general length. If you're between sizes, compare specs to familiar boards and choose accordingly. It's safe to size down a little, but it's not intended to be a shorty.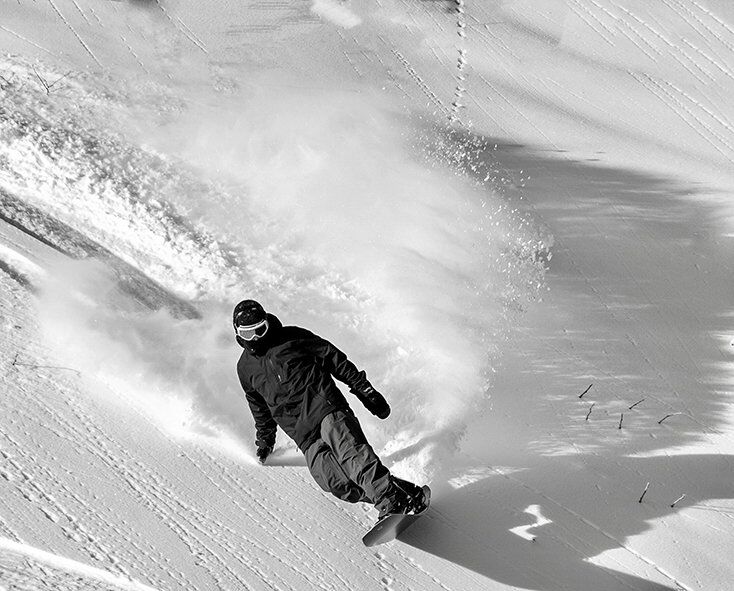 General turning/sidecut temperament is mellow, in that it's in no rush to turn – get 'er on edge and it's more comfortable than a lot of others, being at a steeper angle at speed. The tip to tail flex, paired with a sturdy torsional flex and mellow sidecut, lends itself to high quality carving and smooth lines. Nitro's standard application of a progressive sidecut rides most like the larger part of its radius – it enters and holds through an arc with the more open section, starting at the nose and moving through the body of the board, while there may be a slightly quicker feeling in the exit when finishing a turn, given that the radius tightens through the tail. Despite this locked-in nature, I find it easy to break loose from a carve to snap a quick slash without losing any speed, and the same goes for fresh snow. The more "wide open" temperament is one of the great benefits for riders who tend to hold a faster, downhill rhythm. It is definitely a board that wants to go fast, and does not flinch. For me, that's a really comfortable, confident feeling – my kind of board.
While there are really only a few manufacturers of base material, each company can tweak & finish theirs as desired. The Squash, naturally, includes a high end sintered base. In my experience, Nitro's sintered options are some of the best, both in terms of durability and wax retention. With certain other brands, I've found the need to touch up my wax jobs frequently, especially along the edges, while I was always impressed with the Squash's ability to keep looking good & gliding fast for longer periods of time. This has been my experience with other sintered Nitros I've tried.
Nitro Squash Splitboard
For those considering the Nitro Squash Splitboard, all of the above can be applied, and much of the design naturally lends itself to being a great splitboard, where function truly matters. With a healthy amount of contact length per size and its full camber profile, you'll have plenty of grip on the way up, plus full capability for whatever you find on the way down – even crossing groomers. Nitro also uses top-mount inserts for the board hooks, leaving a nice clean base underneath. This translates to maximum glide on all surfaces, no potential to snag on anything in the snow, as well as the ability to base grind if you should take a hard hit that needs repair. The supplied Nitro hooks are of the passive variety (no clip/lever/etc) and work fine, though you may find you prefer to swap in your personal favorite – I have tried all the common varieties over the years and settled on Phantom Hercules hooks, also a passive design.
The stock Nitro nose clip is a bit more meaty than some others of the whale tail variety, and I feel no reason to change that. The later models also have factory holes for use of pre-cut skins, which has become more popular these days. The fit & finish is excellent – mine is very well aligned and fits snugly. It's a wonder the split version only retails at $599, just $70 more than the solid, and much less than the average split. I still have not figured out why this is, as it lacks nothing, but I'll take it!
Overall Impression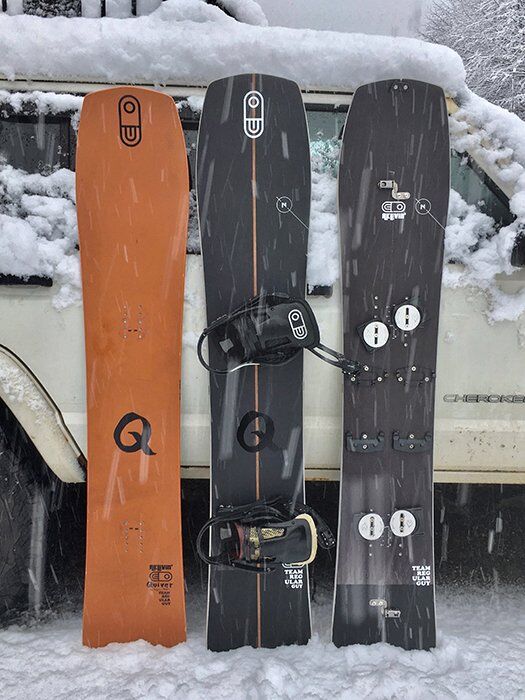 So, now you know. In the wise words of Ron Burgundy, "I love squash. Squashy squash squash. Here it goes down, down the mountain, mmm mmm mmm." The Nitro Squash ($529.99) is a board you're going to love.
Related Articles: