If your the sort of snowboarder or splitboarder that really likes to put your board on edge, (not the kooky groomer trenching) but actual powder surfing. You know like mimicking the sport of surfing, which snowboarding has always tried to do. Now with the Rossignol Sashimi Splitboard you can fulfill your wildest powder surfing dreams.
The shape and size of the Rossignol Sashimi Split is certainly unique. You'll most likely be used to riding narrower and longer boards. Too be honest this Rossignol Splitboard sat around the office for a while before I took the board out for some laps. Typically I'm not a fan of non-standard shaped snowboards or splitboards.
Sashimi Splitboard Size
When you first look at the Sashimi it sort of reminds me how surfboards have gone shorter and shorter with fish shapes over the past few decades. The Sashimi fits between the XV Split and the softer smaller fatter Rossignol XV Sushi Splitboard.
Sometimes when it's deep and untracked the best thing to do is point it. Could a board that's only 156cm be ridden in deep Teton backcountry snow as well? Yep, one of the reasons why it rips powder is this board likes to sit above the snow and is lightning fast. It has a bigger nose, short tail and a design that's simply put fun to ride.
On this directional shaped board, available in only one size, (156cm) there's no chatter. You can really open the Rossignol Sashimi Splitboard from top to bottom, even in crap snow. But hopefully your not researching splitboard reviews and then planning to ride hardpack snow.
Sashimi Touring
For the profile, the Sashimi uses the Rossignol AmpTek Rocker Camber profile, with 60% of the boards camber being underfoot. This makes for reliable touring on the way up and a board that does what's asked of it without compromise on the way down. The Sashimi is stiffest under foot and then lightens up and becomes softer as you move toward the tip and tail.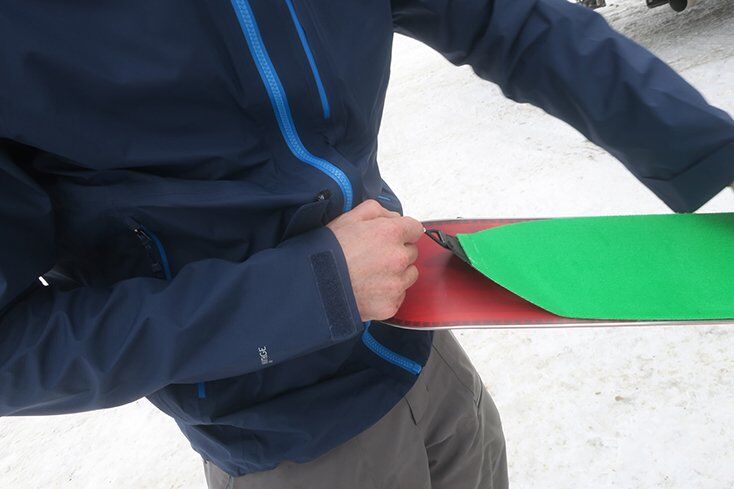 Rossignol once again teamed up with Pomoca for perfect cut Sashimi Splitboard Skins. The board has notches cut out in the tail that are designed to work specifically with Pomoca skins. Pomoca has a bungee style attachment that easily locks your skins into place without any fuss.
L.I.T.E. FRAME Technology
Rossi uses their L.I.T.E. FRAME Technology in the Sashimi Splitboard that wraps Urethane around the entire board directly against the sidewall and metal edge. This creates strong damping properties. What's crazy is when you hold the board up in the light you can actually see the metal edges running into the core through the Urethane.
What I like best though about the L.I.T.E Frame Technology is it allows you to put more pressure on edges, without actually using more force. I'm talking you really don't need to apply much or additional pressure as this board wants to roll over onto its edge at the faintest hint of pressure making for livelier turns. For the light and fast crowd this technology stands out.
Overall Impression
I must have tested 15+ splitboards last season. They come and go out of the office all the time. However, this board is staying with me. The Rossignol XV Sashimi Splitboard ($699.99) is a board that will surprise you. It honestly shouldn't ride as good as it does, especially with how the board looks. Rossignol started in 1907, they make skis, snowboards and a ton of other stuff. The technology truly shows here. And heck the board was developed in partnership with Xavier de la Rue.
You might not think of Rossignol as a core snowboard brand. That's fine but in all reality they have been cranking out solid products for years. The Rossignol Sashimi Splitboard can be used anywhere around the world and is one of those shapes you'll want to mount traditional bindings on for cat skiing or heck it would smash heli skiing in a place like Haines, full send mode..
Related Articles: