Ladies, let me introduce you to SheFly apparel and their women's revolutionary "Go There" pants. What makes these pants magical? Their ability to let you pee anywhere, at any time, without compromising your decency. I'm heavily raving about these pants because they were created with the female physiology in mind, and quite honestly, I've had a lifelong jealousy towards men for being able to leisurely unzip their fly and pee without exposing themselves. Having the opportunity to personally experience my outdoor recreation pee-fantasy was mind blowing. These pants were created out of the necessity of women deserving to feel safe, supported, and equal in excreting themselves while working, playing, and recreating in the outdoors.
About SheFly
For starters, I want to share that the SheFly team is constructed of forward thinking women coming out of Middlebury College in Vermont, "who were tired of wearing pants that didn't work for the female anatomy." Can I get an amen? If you start researching a majority of the outdoor brands in today's modern world, you would find that most apparel on the market is designed by men, for men, with the male genitalia in mind. Thankfully, the outdoor industry is finally "installing" a well needed "system update" on how to create functional clothing and gear that encourage women to confidently enjoy the outdoors without compromising their safety. Drum roll please!
I received the "Go There" pant in a size 2, in the "Juneau Jade" color, which is in fact a stellar color. I immediately ripped my pants off to throw these on. I experienced a thrill unlike ever before when putting on a pair of pants. They checked all of my boxes- I could ninja kick in them, the pockets could fit all of my goodies, they repelled water while still being breathable, and they fit my waist and leg length (I'm 5'2" tall, 25-26" waist, 30" inseam)! Two of the details that truly invoked love at first sight, outside of the women's specific zipper, were the bottom of the pant drawstrings and adjustable waist ties.
SheFly Pant Features
I'll start with the All-Star component of the SheFly pant, the "Patented Shefly® zipper to maximize privacy when nature calls". During my week testing these pants, I climbed, hiked, practiced yoga, played in a river, ran, and mountain biked in these pants. No matter how hard I pushed these pants, they never disappointed me. They empowered me with how much I could unzip, whether it was a number one or two, and granted me privacy while going- even while on a climb! I never once noticed the zipper while riding my mountain bike or sitting on the couch; and because of how discrete the zipper flap is, no one knew the magic of these pants unless I blatantly showed them. You will most likely forget you have that kind of zipper access, especially because the inside flap prevents any "catching" of the zipper from the inside.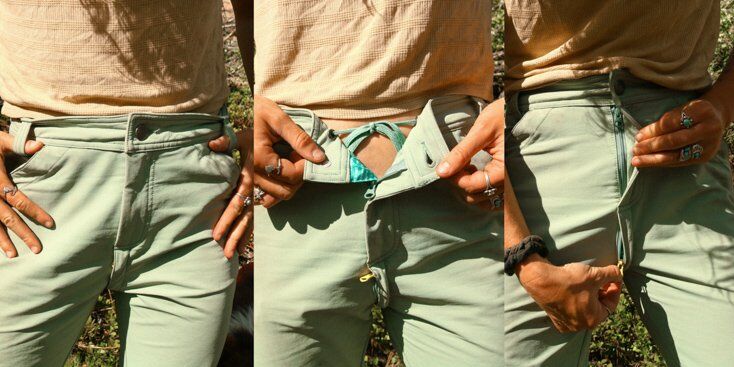 As I'm sure many women experience, our waistlines fluctuate as each day passes due to our ever-changing hormones from our menstrual cycle and what we consume during the day. The pants fit well with just the button, yet, that waist tie allowed me to adapt the pants specifically to my body type as each day and activity passed. My bonus finding? I was safe from my undies showing when in a deep squat or bent over! I will note that I'm not a big commando gal, however, the waist tie will surely prevent any unwanted appearance of your butt-crack if that's how you like to stroll!
Next on my features to brag about are the bottom of the pant drawstrings and capri capability. I'm a woman that loves options, and being able to choose from a straight legged pant, capri, or jogger style made me squeal in delight. This detail is supported by 4-way stretch technology, which enabled me to move exactly how my body was meant to move: freely! SheFly went above and beyond to give every woman of every size the opportunity to feel supported, safe, and down right good-lookin' in these do-all pants!
To top it all off, the pockets were functionable and allowed me to participate in all of my activities without carrying a backpack, purse, or fanny pack. Iphone X? Side leg pocket coming in for the win. Snacks? Never going to lose them because of the front pocket zippers. Wallet in the butt pockets? Didn't reduce my range of motion or waist comfort. These pants are truly made for the women who are not always within the reach of a restroom; whether you're an outdoor guide, scientist in the field, union worker, pregnant, serving in the military or workforce, a busy mom, or recovering from a mid/lower body surgery.
Overall Impression
Women, let's support more women created, owned, and operated businesses in the outdoor industry. SheFly is here to stay, and they are just getting started. I encourage you to invest in the Go There Pants ($169.99) just to understand how crucial creating outdoor apparel for women is. I will leave you with two questions. If you had more clothing suited for your female physiology, would you be more willing to go outside? How could you impact the generations of women to come who are curious about getting outside by showing them it's possible now more than ever?
Related Articles: