For this years e-bike test we turned to Yakima to help transport some incredibly valuable bikes. And luckily for us, or more so thanks in part to Yakima all the bikes made it safely from point A to point B while being transported on the Yakima OnRamp E-Bike Hitch Ramp.
Since 1979 outdoor enthusiast have trusted in Yakima Racks to protect their in many cases most prized possessions. You know the sort of gear that's worth 3-4 times the value of the vehicle it's sitting on.
Ramp For Loading
E-Bikes are heavy, in most cases around 60lbs. or more. So it still surprises me lots of bike rack manufactures are making e-bike racks that require the user to actual dead lift a bike a few feet in the air to put it on the rack.
Luckily Yakima figured this out, and as the name implies the OnRamp is just that. A ramp to load your ebikes up and onto the actual rack. If you have ever tried to lift an ebike onto a 2 bike rack closest to the trunk to realize there isn't much space and most likely you're going to be bending awkwardly which is never good.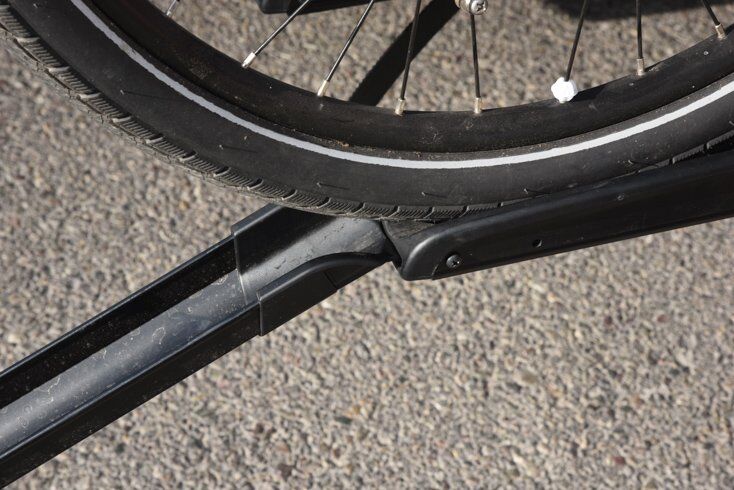 Instead the Yakima OnRamp Ramp makes carrying a wide range of bikes a breeze. It's as simple as rolling your bike tires up the ramps and then locking the bike in place. If you carry 2 bikes, you can load the second bike from the opposite side which gives more room to maneuver around the bikes and rear of your vehicle.
When not in use the ramp can be attached and secured to the rack itself via a wingnut. Although this did take the PR firm to point out to me as I had been driving around with the ramp inside my truck for weeks, which turns out wasn't that big of a deal breaker.
Weight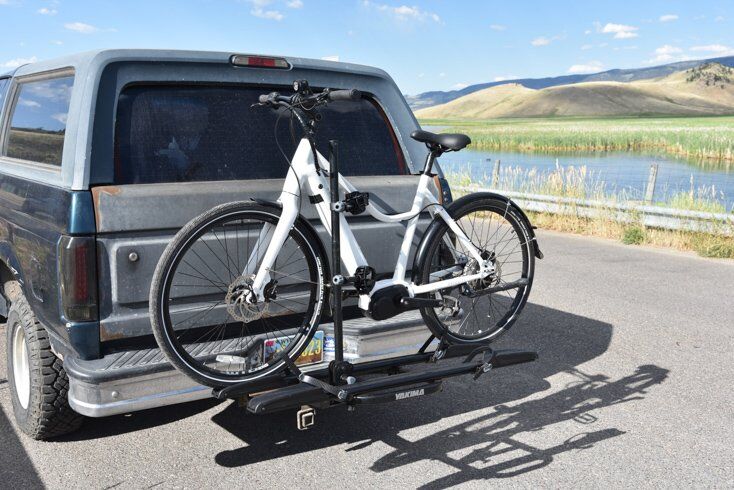 The Yakima OnRamp Trailer Hitch Bike Rack weighs 42.60 lbs. This makes the rack actual manageable to maneuver around when not in use and can easily be folded up and stored in smaller places than a heavier, bulkier traditional hitch style bike rack.
This hitch mounted bike rack was engineered to carry 2 bikes each weighing up to 66lbs. Here's where it get's a little tricky, this same rack is only rated to 44lbs. for off-road use. So what's the mean? Well if your driving down a dirt road with pot holes your really going to want to slow down when having the Yakima OnRamp loaded up with a couple bikes. And be sure to bring the Yakima Install key (more on this below) to tighten the rack to your vehicle on longer trips.
Installation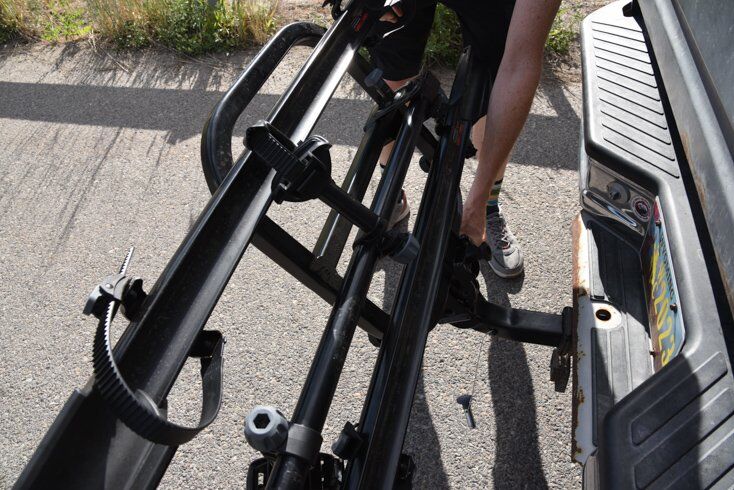 This rack took about 45 minutes to setup and only had one major flaw I could find. That was the included Yakima wrench that comes with the rack to tighten the rack against your trailer hitch mount.
The problem was the bolt was soo big none of my ratchets or wrenches worked. So instead I had crawl under my truck and do these little 1/4 turns about 20-30 times to lock the rack in place using the supplied Yakima wrench.
All the other racks I have tested either are going tool free to mount to the hitch or work with what's commonly found in a standard tool kit. This was weird on Yakima's part.
Your mileage may very as I'm constantly swapping racks for reviews and vehicles, so having to crawl back under the rack a week later to take it off one vehicle and add to another was a little frustrating.
If you find yourself driving more than 100 miles (or any distance for that matter), I would recommend always having the Yakima Wrench to tighten the rack back to the frame, vibrations will
Once installed onto the vehicle the entire system on this Yakima E-Bike Hitch Rack is locked into place using the SKS (Same Key System) which attaches to the included cable wire and lock.
Clamps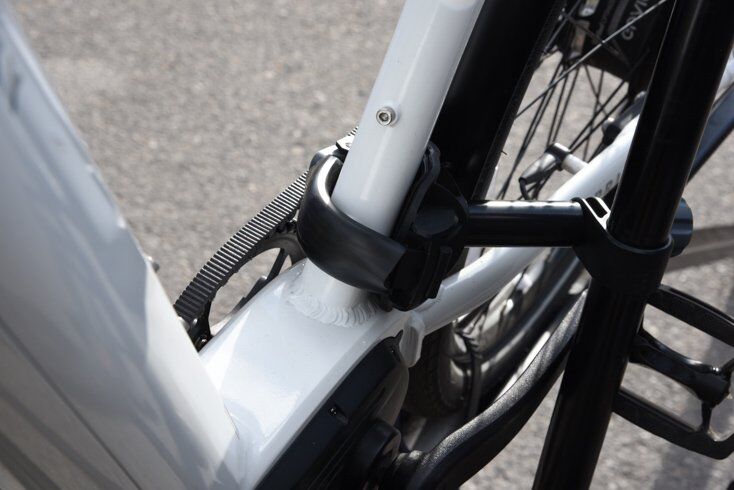 The Yakima OnRamp Bike Rack attaches to your bikes frame view padded clamps and a ratchet locking system. There are 2 clamps on the top and 4 total ratchets on the bottom giving 6 points of contact. Plus the added cable lock for additional security.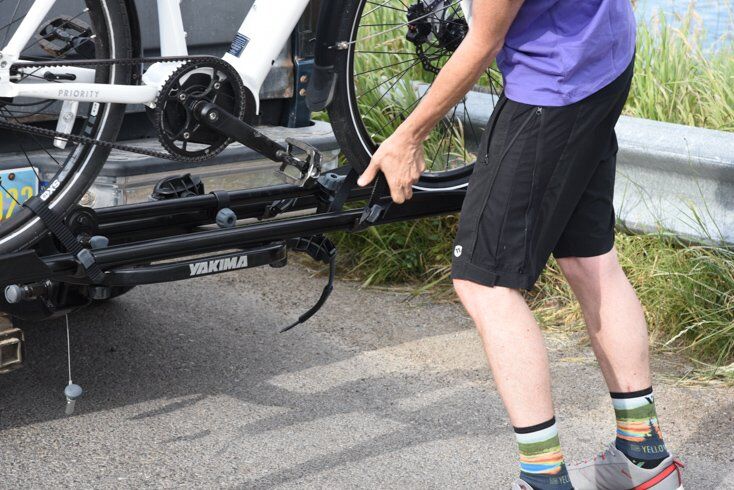 The ratchets are easy to get on and off and will be familiar to most snowboarders or people that have used similar bike racks in the past. For larger fat tire bikes, Yakima offers longer Fat Tire Straps that will be easier to get on and off the ratchets without mush fuss.
And if your tires are a little longer than the racks tray length you can even extend the sliders out a bit to accommodate longer bikes and e-bikes.
Tailgate / Rear Window Access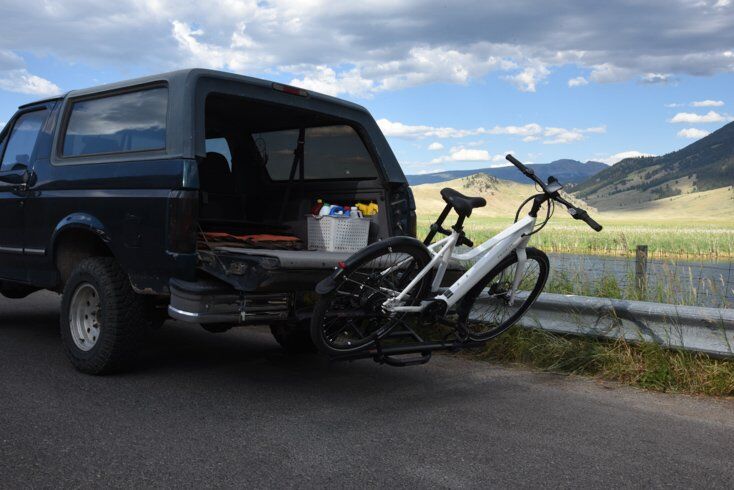 Need to get into the back of your vehicle after you bikes have been loaded. It's really easy to do thanks to the tilt feature of the Yakima OnRamp E-Bike Rack. This can even be done with just 1 person.
Overall Impression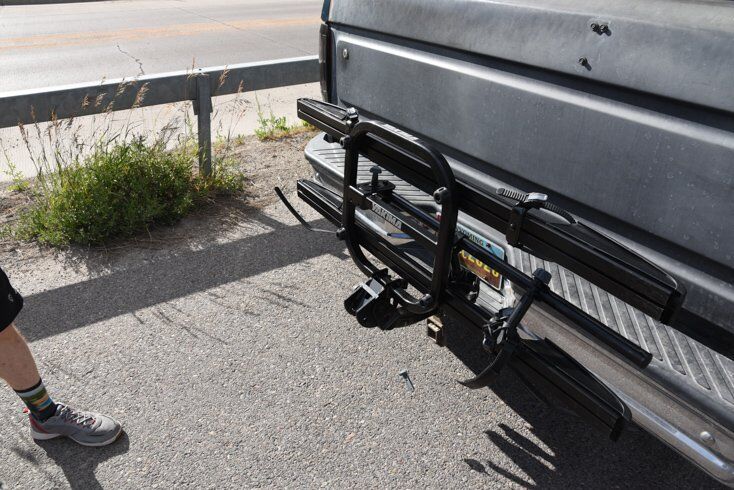 One of the best features about the Yakima OnRamp Bike Rack is how easy it folds up and against your vehicle when not in use. It doesn't scream, hey I have a bike rack attached to my vehicle. Instead the look is much more stealth. And thanks to the Yakima logo, people will know you are doing something cool, you just might keep them guessing for a while.
Save your back muscles from straining to lift heavy bikes by instead using the easy to operate Yakima OnRamp E-Bike Hitch Rack ($729.99).
Related Articles: