Are you looking for a way to transport your ebike or 2 heavier fat bikes at once? We've been in search for a bike rack that could handle the weight of the ebikes the Mountain Weekly News has been testing as of late, which led us to the Saris MHS Modular Hitch System Bike Racks.
Bike Capacity
The Saris Modular Hitch System we tested has the ability to hold 2 bikes out of the box weighing up to 60 lb. each . We did manage to put a 75+ lb. e-bike on the rack which seemed to be fine, however I wouldn't recommend going over the total capacity of 120 lb. with 2 bikes. For the other 95% of bikes out there having 2 bikes attached to the rack will be perfectly fine.
Setting up the MHS Rack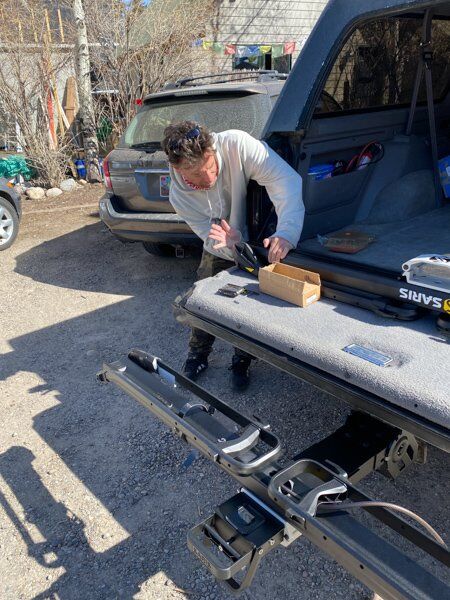 It took 2 people under an hour to unbox and install the Saris MHS System. Which does require a few tools, ratchet and socket. When the boxes with the frame and additional arms arrived they were huge! So keep this in mind if having the system delivered to an apartment, or office building.
Once the rack was setup and folded up against the back of the truck I was really impressed by how small the footprint was. You could easily drive around with this on your car or truck all summer without it taking up much space, limiting where you can park or really looking out of place.
What's cool about these Saris Bike Rack Trays is they're removable, and in the future you should be able to mount other additional rack types from Saris here. Or even add an additional Bike rack totaling 3 bikes.
Saris uses a pull trigger to unlock the rack, which allows the system to fold up and down, and it's sort of fun to use. Once locked into place there's no question if the rack is going to move or not.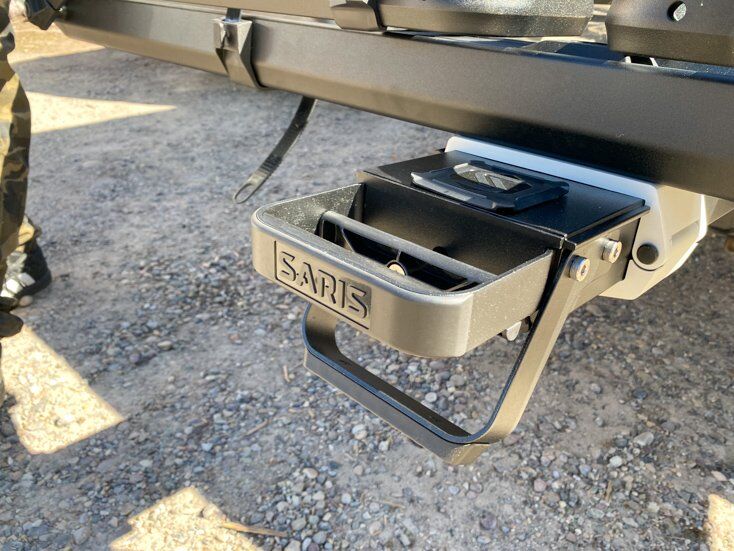 For the trailer hitch lock. When locked "properly" to your vehicle this Saris Bike Rack wont bounce. In our first test I did manage to setup the rack incorrectly by not tightening down the lock that goes through the hitch all the way which led to some slop. A friend noticed this grabbed my ratchet and socket gave it a few tightens and it sealed up any play the rack had.
So now I carry the socket 5mm? and ratchet in my truck at all times. Just in case I need to tighten it down. Or swap our racks depending on the seasons.
Even though the rack tightens down nicely, be mindful when driving down dirt roads. Your mileage may very as they say. Saris advertises that the MHS Rack System works for "light off road use" more likely they're talking about graded dirt and gravel roads. So be mindful if you're slamming into nasty pot holes going up a remote forest service roads with your bike on any hitch style rack, the same way you would be if you were towing a camper or snowmobile trailer. The less bounce back there the better.
Bike Sizing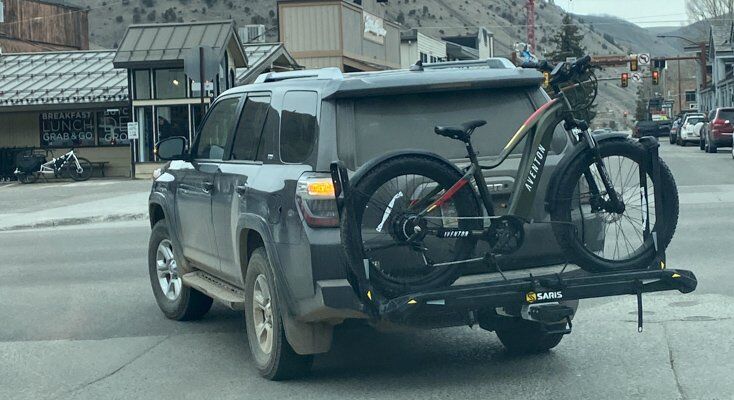 We have yet to find a bike that won't fit on the Saris MHS 2-Bike Rack System as it accommodates bikes with wheels ranging from 20″ to 29″ with up to a 53″ wheel base. The duo Wheel Arm Holders wrap around the tires and can be adjusted depending on the height you need to get a secure fit over the tire.
If you find yourself swapping out numerous bikes, you may end up having to adjust the height of the arm more often then not which requires unscrewing the top of the arm, finding correct height and screwing it back in, vs some of the other bike rack styles like the Saris SuperClamp EX2 and other manufactures were you simply slide the arm up to the correct height and then push down. But for most everyone else, once you set the height of "your bikes" tire most likely won't change throughout the season.
Saris recommends putting the heaviest bike in the bike tray rack that's nearest the vehicle and the same thing if only using once rack.
Rack Weight
The 2-bike MHS Rack weighs just over 70 lb. So be careful when taking the rack on and off or moving it long distance by hand as it can be awkward to carry. This heavier weight allows the sturdy Saris MHS frame to carry an additional 120 lb. of bikes.
If you ride alone there is a 1 bike version and even a 3 bike version of the new Modular Hitch System Available. Or you can simply get an additional Duo 1 Bike Add On Tray giving the MHS 2-Bike Rack System the ability to carry 3 bikes total.
Saris MHS Base: 38 lb.
2 DUO 1-Bike Tray: 33 lb.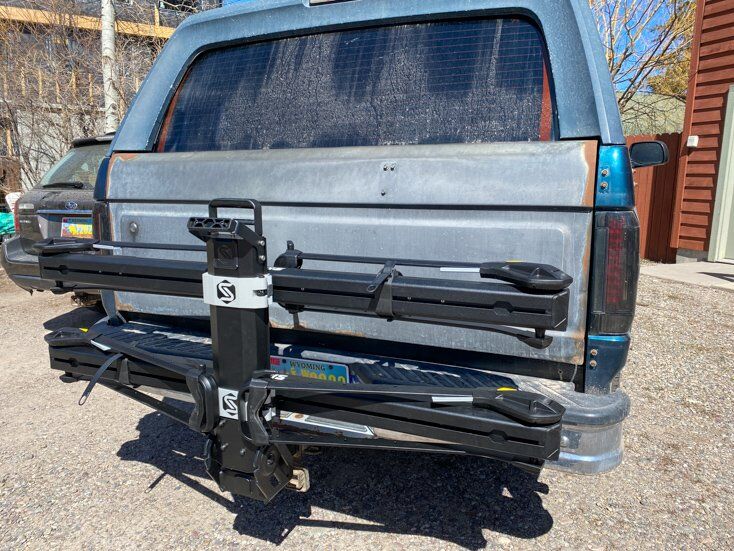 Pros: Ability to hold 2 bikes up to 120 lb. total. Modern clean look
Cons: Clunky Snowboard Style Ratchets and Ladders, I would recommend upgrading these or not relying on them too much. They don't seem in line with the cost of the bike, Saris sort of cheeped out here. Saris if your reading this, these really ought to be upgraded…
Overall Impression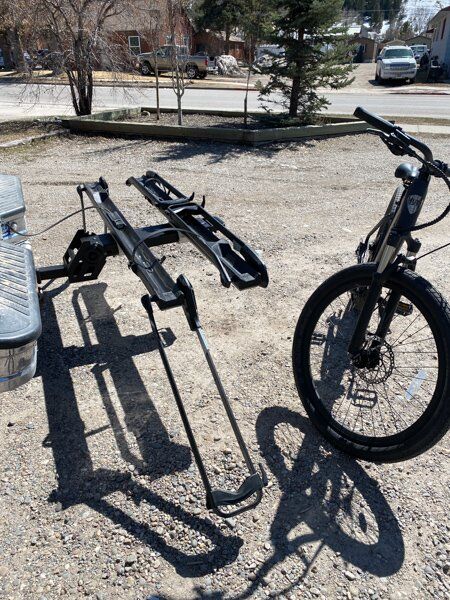 We've already put hundreds of miles on the Saris MHS 2 Bike Rack Base ($200.00) combined with Saris MHS DUO 1-Bike Tray ($350.00) and have yet to have any problems, which is nice when transporting thousands of dollars in bikes. Not only does the rack do a great job of securing and locking itself to a vehicle. Saris also included locking cables built into the rack arms with key lock's so you can travel with your bikes without worrying about them getting stolen off the rack.
Plus the cable locks add a third point of contact and a way of securing your bikes to the MHS Rack. If you plan to ride down dirt roads we recommend using the included cable locks in addition to the wheel locks and ratchets this rack comes with.
If you plan to leave your rack on your car for most of the year, are looking for a way to carry 2 bikes that weigh up to 60 lb. each and don't necessarily want to yell to everyone hey I ride a bike all the time, the streamlined foldable Saris Modular Hitch System Bike Rack might be just what you need.
Related Articles: