2020 looks to be another great year of innovations in the splitboard world. With splitboard bindings getting lighter, faster and more freestyle friendly the days of having sub-par bindings are long gone.  Our picks for the best splitboard bindings of the year are below.
Best Splitboard Bindings
Spark R&D Arc Pro Splitboard Binding – ($540)
The Spark R&D Arc Pro Binding is the lightest splitboard softboot binding on the market weighing – 1.23 lbs per binding.  Spark shaved weight and used new high-end screws on the Spark R&D Arc Pro Bindings which feature Pillow Line Straps and built-in Whammy Bar along with a 2 stage climbing wire. Also available is a Pro crampon.
The Union Expedition Splitboard Binding rides much more like a traditional snowboard binding.  It's a little bigger and bulkier but that trade-off comes with how it performs. Don't let a little play in the bindings scare you off…Once you try the Union Expedition Splitboard Bindings it's hard to go back.  Weight – 1.77 lbs per binding.
Plum Splitboard Binding – ($898.99)
You're most likely not familiar with Plum unless you geek out on splitboarding however I wanted to make sure to include these guys in the roundup this year.  (UPDATE:  Due to patent reasons these bindings are once again NO LONGER AVAILABLE IN THE UNITED STATES)
Plum have been dialing out the ski and splitboard community in France for many years. If you like Karakoram, you're going to want to check these out. Super high-end Carbon binding with negative degree walk mode. Weight – 1.68 lbs per binding. There are some floating around online.
The Spark R&D Surge Pro Binding is designed for a bigger stronger rider looking to drop weight on their splitboard setup. It uses Sparks comfortable Pillow Line Straps that really wrap nicely around your boot allowing for great board control. The Spark R&D Surge Pro is a durable binding you can count on while touring in the backcountry. Weight – 1.33 lbs per binding.
The Spark R&D Arc Splitboard Binding features lightweight Pillow Line Straps that feel incredibly comfortable when wrapped around your boot, think wakeboard straps. The Spark R&D Arc Splitboard Bindings are great all-around tried and true binding that everyone can enjoy. Weight – 1.38 lbs per binding.
What makes the Karakoram Prime Connect System unique is it allows one set of bindings to easily be switched between a splitboard and solid board. Karakoram's Prime Connect R Binding feels much more like a traditional snowboard binding which has the potential to compete with the Union's in terms of comfort and familiarity.
Designed for big mountain hard riding chargers with a little more weight.  The Spark R&D Surge Splitboard Binding comes with the new Pillow Line Straps, along with the Whammy Bar Climbing Wire that makes it now even easier to engage or disengage the heel risers climbing ladders on the Spark R&D Surge Splitboard Bindings. Weight – 1.50 lbs per binding.

K2 Splitboard Bindings – ($409.99)
The K2 Farout Splitboard Binding slides onto Voile pucks and then is locked into place by pushing down on the lever in the center of the binding. The main difference between how the K2 Far Out Binding is attached to the board in ride mode vs the Spark R&D system is you actually pull the bindings on the pucks toward you vs Sparks where you slide the bindings over the pucks. So it's similar in that regard.
The bottom of the Far Our Binding features the patented Pinless Speed-Rail Mountain System which is essentially 2 hooks that lock into place by wrapping around a metal bar.  The hiccup here is its tough to get the hooks under the bar, even while testing indoors, so TBD how this system will work once on snow?
(UPDATE: For 2020 there will not be an updated FC Model, they can still be found online). Union introduced the Union Expedition FC Carbon Binding a stiffer higher-end version of their Expedition Binding.
v
Hardboots make touring much more efficient, especially valuable when the majority of our days are spent on the way up. For anyone considering splitboard mountaineering, Spark R&D Dyno DH is a solid splitboard binding from the guys over at Spark R&D. Keep in mind you will sacrifice a little on the descent in terms of freestyle abilities but you'll get to the top quicker
Also, while splitboard mountaineers previously had to use skiing toepieces to clip into for the ascent, Spark has come out with their own tech toepieces. Instead of having to adapt a pair of AT toepieces to your splitboard (which involves either drilling new holes into your topsheet and mounting them a la ski bindings or using adapters that add weight, height, and expense), Spark's Tech Toepieces have a split hole pattern built-in.
Voile Speed Rail Bindings – ($375.00)
Voile is still in the splitboard game for now (?) with their Speed Rail Binding and Light Rail Women's Splitboard Binding that come with a built-in heal lockdown function. The newly updated highback featuring 25 degrees of additional front to back movement and 12 different forward lean angles. An added bonus is the torsional support the highbacks feature, which has cutouts designed to fit Voile straps to make your own power strap of sorts.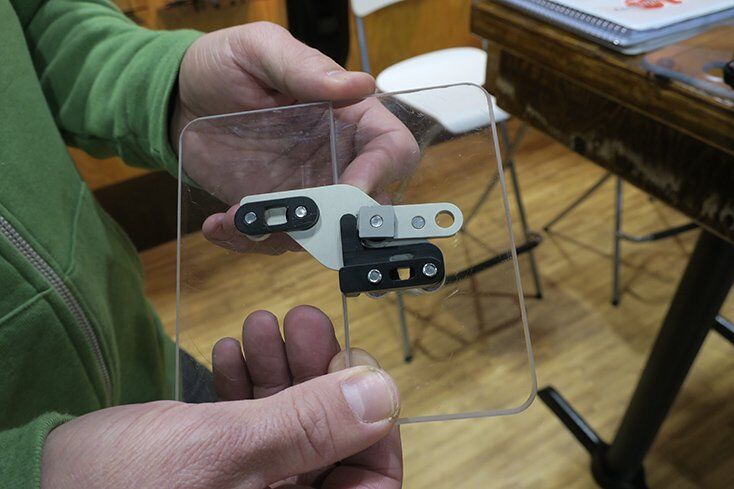 A cooler new invention for splitboarding is the Spark R&D Crossbar Clip designed to pull both parts of the splitboard in together. In the past, the industry relied on either Voile or Karakoram, so it's nice to see Spark entering this realm as well. The clips are easy to use and have the ability to be adjusted as needed by turning a set screw. Say goodbye to any gaps between your splitboard moving forward.
Another new piece of tech Karakoram is bringing to the splitboard world comes in the form of new clips to hold your splitboard together. The new UltraClips will according to Karakoram:
Once joined the UltraClip fully constrains the seam of your splitboard to eliminate seam rattling, seam shearing, and seam rolling.
The new UltraClip is music to our ears as it can be super frustrating when your board starts to separate over time, even worse is when you can see light through each half of the board. Luckily it looks like those days are coming to an end thanks to new connectors from both Karakoram and Spark R&D and now Capita has followed suit.  Plum is surely next.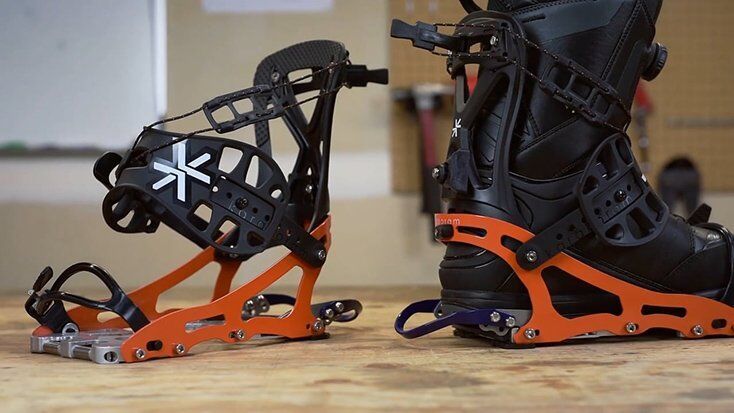 With a solid connection between the highback and your ankle strap, this innovative system from Karakoram will help to increase lateral support, something the splitboard world, especially soft booters are in dire need of.
Fix Splitboard Bindings
A new player is potentially emerging in the splitboard world in the form of Fix Bindings. We're still waiting for more information on the system and release date. The Fix Binding Co splitboard binding I saw at the SIA trade show was lightweight, simplistic and looked like a traditional snowboard binding similar to the Union Expedition. This binding looks to be pin free and will have a very unique interface.
MtnWeekly is funded by you. If you find MtnWeekly useful please help fund it. Click and buy your gear from our favorite merchants.
Splitboard Binding Price Comparison
Spark R&D Arc Pro ($540)
Spark R&D Surge ($415)
Voile Speedrail ($374)
K2 Far Out ($399)
If you splitboard you can thank the guys above (left to right) Will Ritter of Spark R&D and Tyler Kloster of Karakoram for their solid innovations to the split world over the past few years.
More Splitboarding Articles