2019 will see an old manufacture re-enter into the splitboard bindings world in the United States (although this system from K2 has yet to be tested), along with some major updates from current industry leaders. Our picks for the best splitboard bindings of the year are below.
If you splitboard you can thank the guys above (left to right) Will Ritter of Spark R&D and Tyler Kloster of Karakoram for their solid innovations to the split world over the past few years. Spark R&D must be especially stoked to have recently celebrated the brands 10th anniversary!
Spark R&D Arc Pro Splitboard Binding
New for 2018/19 is the Spark R&D Arc Pro Binding.  This is an upgraded version of Sparks popular Arc Splitboard Binding.  The Spark R&D Arc Pro is lighter in weight and uses high end screws throughout the binding and in the heel risers and toe ramps.  Also available is an upgraded Pro crampon.
Spark R&D Arc Splitboard Binding
In 2017/18  Spark R&D updated their Arc and Surge bindings with the brand new light weight Pillow Line Straps that feel incredibly comfortable when wrapped around your boot. Along with the new straps Spark R&D added the Whammy Bar Climbing Wire that makes it easier to engage or disengage the heel risers.
Both the Arc Binding and Surge Binding from Spark R&D are also available in Women's specific versions and colorways.
Spark R&D Surge Splitboard Binding
Checkout our Spark R&D Surge Binding Review
Karakoram Connect Splitboard Binding
2018/19 will be the second year Karakoram has offered the connect system that allows one set of bindings to easily be switched between a splitboard and resort board.
This year the Karakoram Connect Binding looks and feels much more like a traditional snowboard binding.
Karakoram Prime Women's Splitboard Binding
In 2016 Karakoram introduced the splitboard world to there new Flex Lock system, and it looks to be something we will see a lot more of in the future. Whats great about the Flex Lock is it gives you the ability to tighten down your Karakoram bindings against the upper part of your calf giving even more response to the binding while on the way up. With a solid connection between the highback and your ankle strap this innovative system from Karakoram will help to increase lateral support, something the splitboard world, especially soft booters are in dire need of.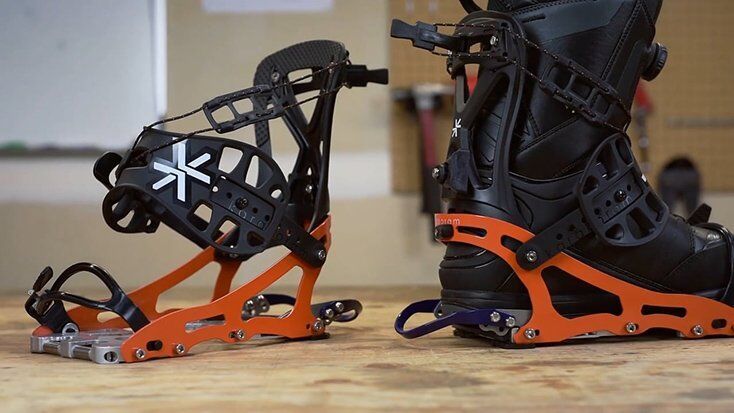 Union Expedition Splitboard Bindings
For 2018/19 Union has introduced the Union Expedition FC Carbon Binding that will be a stiffer higher end version than the Expedition Binding.
The 2017/18 winter saw another major player enter the splitboard binding world, the Union Binding Company which introduced the Expedition splitboard binding, (click for review) this is what professional snowboarder Travis Rice had to say:
"Up until now, the split boarding experience has been hindered by bindings that are built for mountaineering, not snowboarding."
I don't fully agree with Travis, however the Union Expedition Splitboard binding (shown above) does feel and ride much more like a traditional offering from Union making it uniquely different to the other splitboard bindings on the market. The materials, weight and comfort will be tough to match for the other major splitboard binding manufactures in North America including Voile, Spark R&D, K2 and Karakoram.
K2 Far Out Splitboard Binding (Un – TESTED)
For 2018/19 K2 will reemerge in the Splitboard world with an upgraded version of the brands Kwicker system, well sort of.  As seen above the new K2 Far Out Splitboard Binding slides onto Voile pucks and then is locked into place by pushing down on the lever in the center of the binding.
The main difference between how the K2 Binding is attached to the board in ride mode vs the Spark R&D system is you actually pull the bindings on the pucks toward you vs Sparks where you slide the bindings over the pucks. So it's similar in that regard.
However when it comes to how the board is attached in tour mode the K2 Splitboard Binding is unique.  The bottom of the Binding features the Patented Pinless Speed-Rail Mountain System which is essentially 2 hooks that lock into place by wrapping around a metal bar.  The hiccup here is its tough to get the hooks under the bar, even while testing indoors, so TBD how this system will work once on snow?  For heal risers the K2 Splitboard Binding is working with Voile.  The binding is looks tough built on an Aluminum Chassis and Heel Cup.
Sizing:
S (4-7.5 US)
M (8-10.5 US)
L (11+ US)
Unfortunatly K2 does not have bindings available for the Mountain Weekly News to test, so we can't give any feedback on how they perform.
Voile Splitboard Bindings
Voile updated it's Speed Rail and Light Rail Binding for the 2017/2018 winter complete with a heal lock down function, updated highback featuring 25 degrees of additional front to back movement and 12 different forward lean angles. And for everyone looking for more torsional support the highbacks feature cutouts compatible with Voile straps.
If not for Voile and their decades of splitboard innovations none of this would exist, so be sure to keep Voile on your radar especially considering they are now offering the Speed Rail pinless splitboard binding, crampons and insane highback flexibility. (shown below)
Fix Splitboard Bindings
A new player is potentially emerging in the splitboard world for 2017/2018 in the form of Fix Bindings. We're still waiting for more information on the system and release date. The Fix Binding Co splitboard binding I saw at the SIA trade show was light weight, simplistic and looked like a traditional snowboard binding similar to the Union Expedition. This binding looks to be pin free and will have a very unique interface.
More details to follow on this binding from the Fix Binding Co to follow..
Splitboard Clips
New for 2017/18 was the Spark R&D Crossbar Clip designed to pull both parts of the splitboard in together. In the past the industry relied on either Voile or Karakoram, so it's nice to see Spark entering this realm as well. The clips are easy to use and have the ability to be adjusted as needed by turning a set screw. Say goodbye to any gaps between your splitboard moving forward.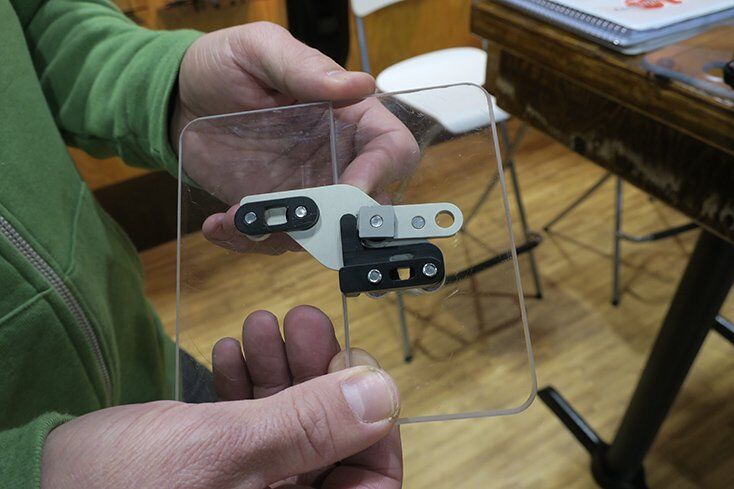 Another new piece of tech Karakoram is bringing to the splitboard world comes in the form of new clips to hold your splitboard together. The new UltraClips will according to Karakoram:
Once joined the UltraClip fully constrains the seam of your splitboard to eliminate seam rattling, seam shearing, and seam rolling.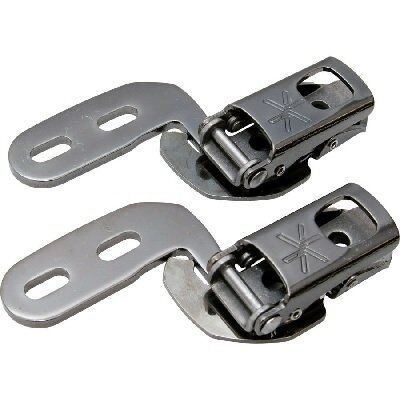 The new UltraClip is music to our ears as its can be super frustrating when your board starts to separate over time, even worse is when you can see light through each half of the board. Luckily it looks like those days are coming to an end thanks to new new connectors from both Karakoram and Spark R&D and known Union Capita has followed suit.  Plum is surely next.
Splitboard Extras
Along with the Union Expedition Splitbaord binding, Union is offering splitboard crampons, and skins from Kohla. When combined with the new Capita Splitboard, C3 is quickly looking to become a splitboard powerhouse. Which will surely have the current players stepping up their game even more to compete with one of the largest snowboarding binding manufactures in the world for their share of the splitboard binding market.
"I feel like this product is going to change the perception that people have about splitboarding. You don't have to compromise performance for freedom while touring." – Bryan Iguchi.
Hard Boot Bindings
If you're looking for information on hard boot bindings for splitboarding. Checkout this piece we did:
mtnweekly.com/sports/snowboarding/splitboard-bindings
Having grown up a surfer and spending all my free time in the winter chasing powder, I personally enjoy the feeling of soft boots under foot. Surely  hard boots will make touring much more efficient however for me it's not worth sacrificing any freedom when going downhill.