You don't always need the heaviest, heaviest-duty crampons for your snow adventures; Hillsound Trail Crampon Pro is made to be your "I may have some sketchy snow-crossings on this tour" foot spikes.
With a quick and easy buckle system and solid but basic construction, if you're just getting into crampon travel this Hillsound Crampon is the perfect first dip into the pool.
Crampon Weight
Let's start with weight; the Hillsound Trail Pro Crampons clock in at about a pound and a half, vs. the comparable Grivel G10's that clock in at almost 2 pounds; trust me, whether in your pack or on your feet that slight weight difference is quickly noticeable.
The Trail Crampons rock a standard 10-spike crampon with an anti-balling pad to keep snow from building cup between your pons and your boots. You should already know what an anti-bot is if you're familiar with traditional crampons; if not, these are really the ones you should buy without hesitation.
Most others have straps you have to tie on or they'll fall off (unless using bailed crampons, though even those have tie-straps). I've had those fail on me when I didn't know what I was doing (and try tying crampons back on halfway up a nearly-vertical couloir). The Hillsound Trail Crampon Pros have a quick and easy buckle system you simply slide the strap into, then you ratchet to tighten them down with comfort and ease. Done. Now, it's time to try them out.
Crampon Test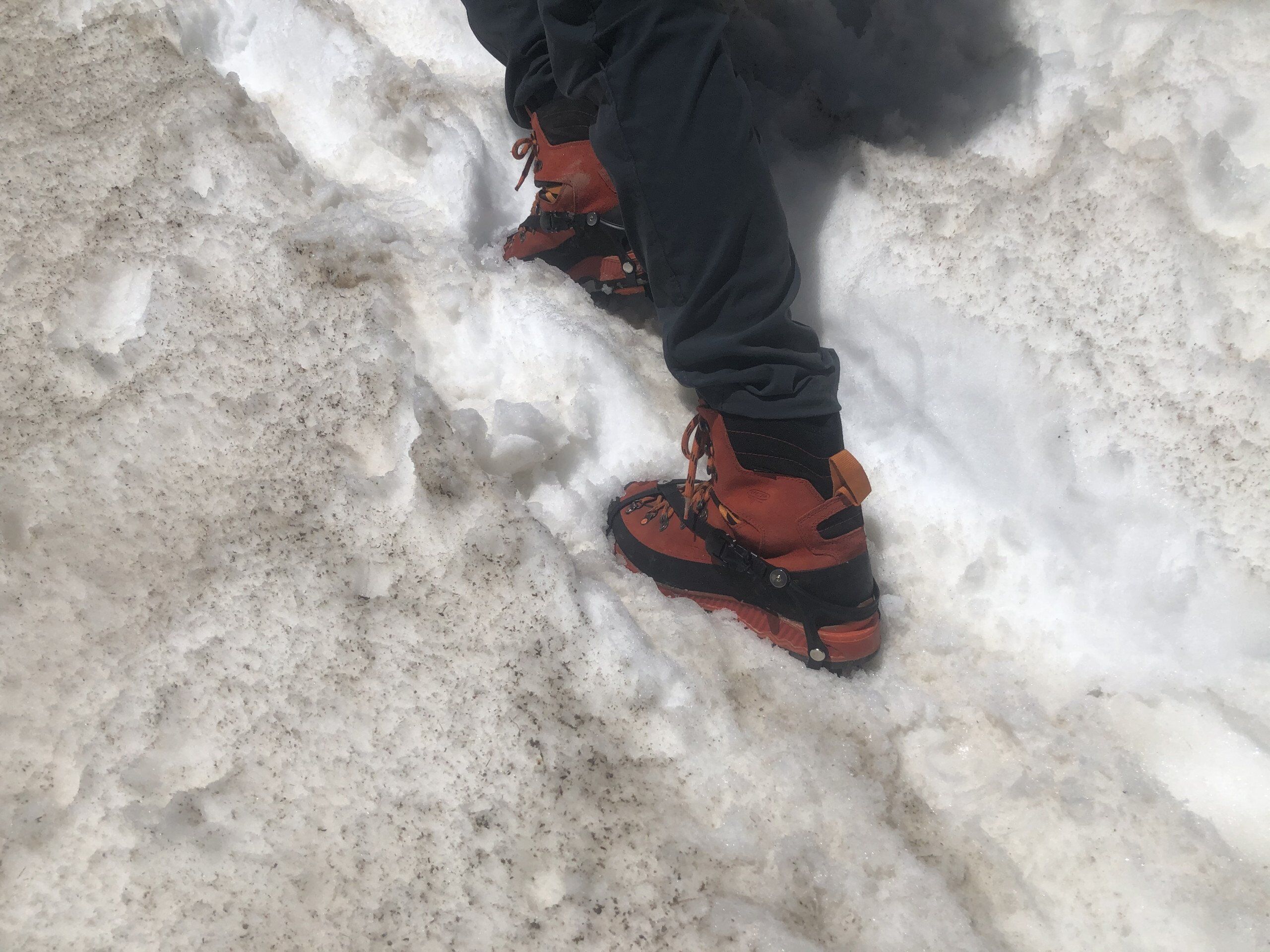 I carry crampons in my pack throughout the winter and even the early summer in the Tetons. Sometimes I use them for ascending a couple-hundred-foot bowl or couloir; other times, they're just for crossing a precarious hanging snowfield. In either situation, my crampons are essential, though for a shorter or flatter bit of snow travel you may be tempted to leave the spikes home; that would be a mistake.
This summer I climbed the Grand Teton in June, when it's melted out lower and on rock (with some verglas) on the upper but in between is a sketchy packed snow and ice / rock/trail interface. This was where I busted out my crampons, for a no-fall traverse across a snowfield. Since the Hillsound Trail Crampon Pros are so light and simple, it was a no-brainer to bring them. If you're seeking aggressive traction in the backcountry, these crampons are for you. I was also able to tighten them down faster than any of my other crampons, even my bailed ones.
While the ratchet makes for simplicity, I would also say that's the one thing I'd caution a user about; if you're putting in a long day in negative temps, the possibility for an equipment fail with these smaller ratchets (freezing or becoming brittle and breaking) would be higher than for one where you tie in the strap (user error aside). Though if you have a day like that in your average winter, you probably already know what you like as far as crampons. In that case, I'd suggest this Trail Crampon Pro as shoulder season and summer spikes; maybe as winter "just in case" crampons on a warmer day. For this purpose, they're great, and they're priced both for beginners or to round out your crampon quiver.
Overall Impression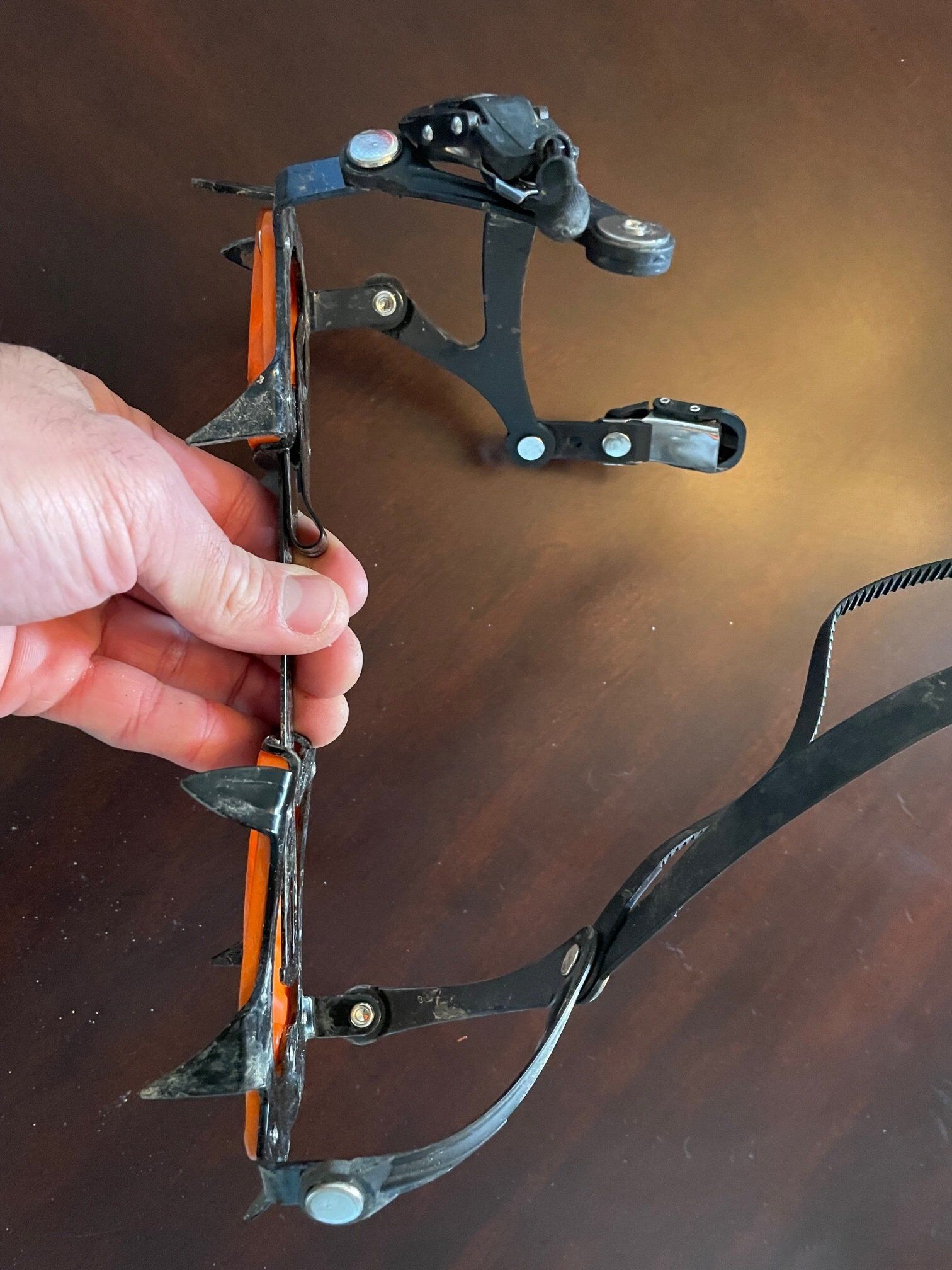 I love to get out on bigger days where anything could be in my way; in fact, it's more fun when you're spending a lot of time traveling on dirt, rock, and snow. Hillsound obviously understood this when they came out with the Hillsound Pro Crampon, an inexpensive, easy-to-use, and leadingly-light pair of crampons. If you're a beginner, you'd be great starting with this pair. If you're experienced but want a pair of pons for short but essential moments, pick this pair.
The Hillsound Trail Crampon Pro ($85.00) is like as security blanket for those couple hundred steep yards where you really don't want to plummet down to your death on technical ascents or ice. Or mellow romps around a nice wide, flattish glacier; yeah, this too. Just pick 'em up; I guarantee you won't regret it.
Related Articles: