Let's get one thing clear off the top: Kemper's Rampage Splitboard may look like those classic boards from back before engineering was a part of the sport but they've engineered the hell out of these planks. Poplar paulownia core with bamboo inserts and carbon fiber make a board that's as sturdy as anything made by some popular big mountain brand. The Phantom Hercules Clips lock it tighter than a lot of splits.
Kemper Rampage Profile
The Rampage Splitboard has a directional twin shape that rides switch like any twintip solid. And the profile's a versatile flat camber that splits easily, floats even the deepest pow, and straightlines like a bullet. Nothing too fancy, no gimmicks. Just a solid, straight shape. And it's glorious.
The first time I took the Kemper Splitboard out was as a resort board, not a splitboard during Jackson's April 1st all-mountain party. It's always a good test to see how a split reacts being ridden downhill all day, and again the graphics are fire. My first reactions: it's stiff (in a good way) and has the most pop of any board I've ridden this season. Like, a small sidehit olley sent me a good 5 feet into the air. At first it felt a little unforgiving on spins and landings but once I got used to it, and had some party day lubricant, I fell in love. By the end I was spinning all over the place, landing in hard bumps and it could lay in an edge through the ice while flying over the late-afternoon slush.
How Does it Tour?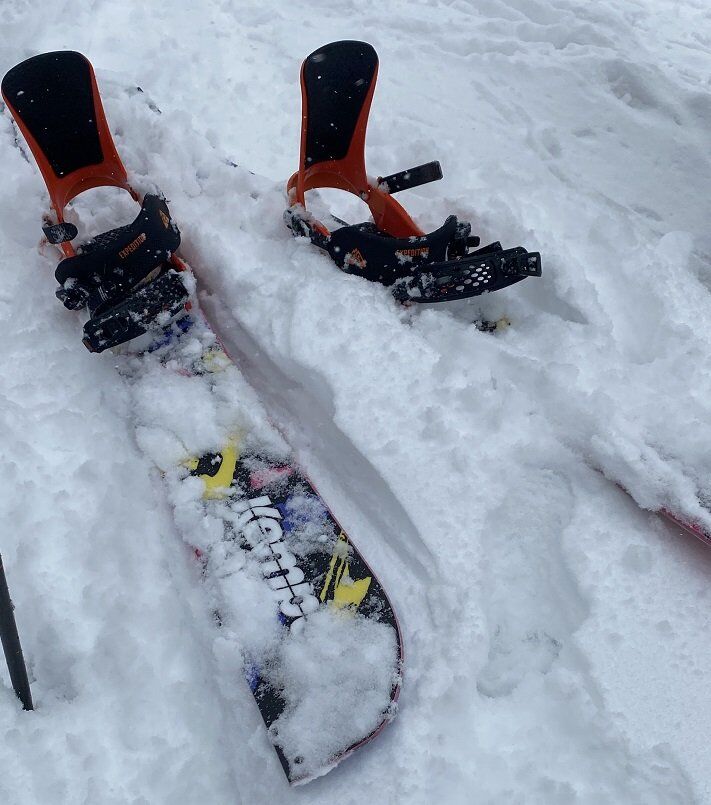 So how does it go out and up? That flat camber is made for skintracks. Period. One of the oldest, most basic profiles in snowboarding excels on all skin tracks, cutting through the soft and holding down hard on ice. Grip and penetration; smooth and easy. The Kemper Rampage Split gets you where you want to go.
But then cruising down in soft snow, variable snow, 8 inches on top of a crust, this board just dove into everything. It looks like fire but it rides even more fire. And with that pop, you can launch off the mellowest hump up no matter what type of snow you're floating on, and dial in all sorts of radical butters, taps, jibs, slashes.
Overall Impression
Snowboarding is cool. It's mainsteam. Too mainstream. But there was a time when it was rebellious. And when it didn't take itself too seriously. When it was all about crazy 80s punk style and to hell with pretty elaborate designs and other junk that looks cool on skis. The Kemper Rampage split speaks to this beautiful lost day, echoes that truly revolutionary period on the hill. But it brings in all the sciencey stuff we've learned since without trying to make it too gimmicky complex like some companies tend to do.
Why Kemper Snowboards?
When I was a kid and still stuck on 2 planks, I bought a fingerboard version of the Kemper Rampage. It burnt an image into my skull, of this new sport with crazy bright colors, pioneered by pirates and outcasts, all having much more fun than anybody, with a ready sneer and a middle finger for all the squares who wouldn't let them into their little resorts. So you can imagine how excited I was to look at Kemper's new Rampage split and realize my childhood rebellion had finally come full circle.
I wouldn't even care if it rode like junk because it looked like fire. So when I found the Kemper Rampage Splitboard ($799.99) was a board that popped and flew better than most of the top names in the split game, I realized you can go back to when snowboarding was fun.
The Kemper Rampage Splitboard, simply put, makes snowboarding fun again.
Related Articles: