Independence, that used to be the name of the game. We were all out there on the mountain for some sort of freedom, a pointless exercise of riding a mechanized steel Chevy-blazer-backseat to the top of a snow-covered peak, hill, knoll, whatever, and then riding some plank of resin and wood and metal back down just to come back up again. Even when people like me had to give plasma for drinking and food money, I could scrounge together enough to make it up to my local hill and get some freedom. And it was MY local hill, just like you had yours and they had theirs, and maybe there was some crossover, some sort of loose coordination but we all know what hill we had a season pass to and what hill we'd have to beg, borrow, or clip a ticket from. But that's dead. With the clash of the Titans, Epic vs. Ikon, accounting for 104 ski resorts worldwide (but mostly in North America) the landscape has been irreparably altered and Lift-powered skiing as we know it, especially the cost of Lift-powered skiing as us skids knew it, is on the precipice of obsolescence.
The Death of Exploring on an Impulse
As snow-sliders, we pride ourselves on our ability to move quickly, adapt quicker, with reflexes like samurais and action like the changing winds themselves. I have memories of golden days when we'd be slightly out of our minds and decide to pile into a car and drive through the night, stopping at ski resorts where the money we'd saved by eating ramen and drinking Steel Reserve was plopped down for a couple of lift tickets (I swear I used a bunch of change and small bills one day at Copper). That was how many of us first discovered the front range of Colorado, how we explored Tahoe, the way we first drank Utah pow or somehow found ourselves in New Mexico. Not to mention that first ride on Jackson Hole's tram. We went where the storms blew and however far a tank of gas could get us. But that was in the before, a paradigm as atavistic as clipping tickets or wearing the same duct-taped jacket for a decade. But even then the cube was turning. What had been novelty vacation destinations along with the lines of Coney Island or the Corn Palace in Mitchell South Dakota the 30s and then the pet projects of 10th Mountain Division alums in the 40s and 50s had become a multi-billion-dollar industry hiring hundreds of thousands of people. Ski hills had become resorts, and these resorts realized that bad snow means we won't visit, that theirs is an extremely-weather-dependent business and such uncertainty isn't welcome in American capitalism. The resorts then happened upon a brilliant idea, no doubt borrowed from mutual funds and Hollywood slate-financing: by sharing the brunt, and when possible buying out competitors in more and wider markets, these big businesses will mitigate their damage and at the same time gain greater control.
The Colorado Five-mountain pass changed the world. Before then, everybody either bought daily lift tickets or they threw down a couple of Benjamins for a season pass to their local hill; maybe they had some sharing privileges if the owner of the hill owned a few others. But ski resorts saw this as a losing guarantee, especially if your co-resorts were neighbors and so subject to the same micro-climates. This led to colonialism not seen since the 1800s, with Vail Resorts leading the charge, not the least in their controversial acquisition of Park City a few years ago that was enabled by the still unbelievable mistake of some dude not renewing Park city's lease, allowing Vail to pick that up. Let's look at Vail.
Hedge Your Bets
The town of Vail had a population in 1995 of about 4 thousand people, another couple thousand in Eagle. With only half the population likely being hardcore skiers let's say they had really only about 2500 people to buy a pass at best. Maybe a few Denver folks would buy passes but plenty liked the ability to drive to Silverthorne and then figure out their next move from there. Nobody keeps the lifts running, the cats plowing and the ski patrol patrolling on 250 grand a year, and walk-up tickets from the well-heeled could never be counted on. Then they'd be at the whims of the dirtbags. No, so Vail grabbed the other front rangers to sell a pass to folks in Denver and Colorado Springs and Ft. Collins that gave the choice of more than just one resort. This ushered in the modern gold rush of consolidation and pre-sales. The revolution of the ski resort ticketing model, sure to go down in the hallows as either the greatest move in the history of recreation or its most fatal blunder.
This evolved along with the Internet into a consolidation and a hedge the likes of which no outdoor recreation industry has ever seen. A recent article in Ski Area Management points out the proliferation and promotion of the Epic Pass was not envisioned as a power grab, at least not fully. In the author's analysis, he points out the Epic Pass grew as the movement towards encouraging the advance purchase, a concept that can overcome bad snow years and closed airports and hangovers; a concept that takes any gamble out of the business of running a ski hill. If you've bought an Epic Pass and winter craps out, you're still going to go on a ski trip because, hell, you paid for your tickets already.
This ushered in the great cold war of Epic vs. its new challenger, the Ikon. And the first casualty has been our fly-by-the-seat-of-our-pants independence. For locals in many a ski town, including most personally in Jackson Hole, it's meant already-crowded slopes have turned into the NYC crosstown express at rush hour. It's also meant changing business as usual and at the expense of the people who actually inhabit said "community", such as JHMR replacing weekend passes (the bread and butter for the increasingly-rare cornerstone of the ski town ecosystem, the 9-5 M-F professional) with 10-day passes, which seems to work in theory except that with a weekend pass you'd get a local looking to grab a couple runs on a Saturday morning, while they wouldn't deign to blow a full day on one tram lap (unless it's end of season and they've been too stingy with it).
Is the Current Ski Industry Thinking Long Term?
The cost of a single-day lift ticket bought at the window over the Christmas holiday 2018/29 was $209 dollars. At the 9 bucks, an hour (or so) the average skid makes standing next to lifts or working the frier, that's about 25 hours of work, which would preclude them from any such indulgence. Five days of skiing at Vail over the first big-season dump that most resorts get over winter would be more than the purchase of an Epic pass and so, ipso facto, everybody with a thought to budgets would plunk down the money to get the pass. And with the domination of the 66 ski resorts, all the other great destinations have realized a sad truth — that anybody who cares about price will eschew people not included in the pass, and everybody else doesn't give a goddamn about price or resort and will stay at your resort and spend ungodly money but the 1% isn't large enough to keep the hill in the black. As an aside, these prices and this new apotheosis of the advance purchase is obviously not sitting well with the kids, who are leaving snowsports in droves. But these prices seem to have another purpose beyond grabbing as much money as possible out of the fatcats' sticky fingers. The plan seems to be to force the young and free to plan, to purchase in advance, and to get used to purchasing in advance in perpetuity.
Thus was born the Ikon pass, the first real competitor to the Epic empire, and the bane of snowboarders and skiers in such storied former refugees as Jackson Hole. These are the true addicts, who want the most extreme product for the cheapest price and can handle it with aplomb, the ones who've sacrificed better jobs and domestic lives for their obsession with alpine perfection and resent the incursion of the folks who sacrificed that proficiency on planks for the money to travel around the world following their ski pass and now fatten the lift lines and sideslip your favorite steep shots. The days of the skid following the snow to the ticket window at the world's great destinations is dead.
But at the same time, long live the ticket window.
Do Local Lives Matter?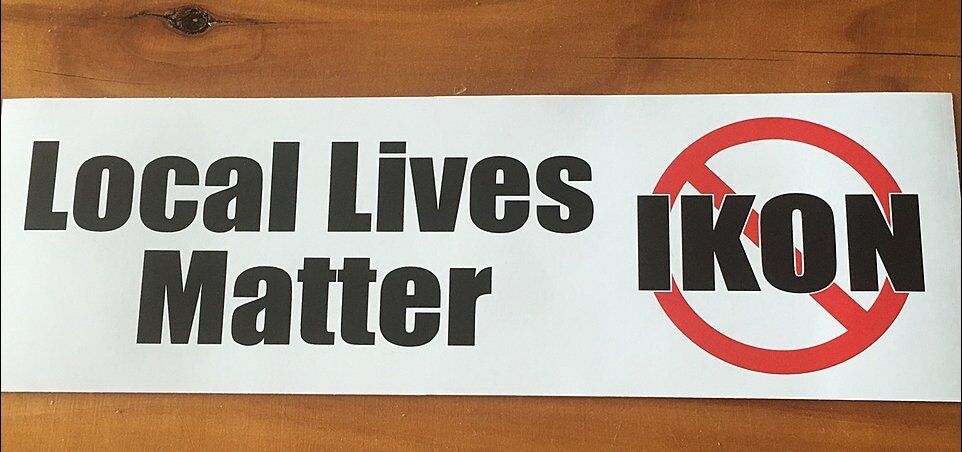 The colonized are never happy. Just this year, as Vail decided to close Park City the first weekend of April despite the deep snowpack still on-hill (a move obviously influenced by a desire to minimize expenses while the only people left to play on-hill are a couple of skids and the insatiable-local-shredder brigades), a rebel gave the people a voice on an Epic billboard. Others, sensing the impending uprising of natives, are trying to appease the conquered (check out Deer Valley trying to cap skiers after Alterra signed them up for some Ikon explosions, which has a great chance of backfiring on deep days when they sell out before most real resort-rippers have even slept off their hangovers. Jackson Hole has told all season pass purchasers that they'll automatically get an Ikon pass for next year, thus turning them into that which they've most bitched about. But in general skiers and snowboarders are a mellow bunch and the resorts know they won't get too much pushback, especially from the colonized landowners who've seen their property values double and who gives a damn what that 7-11-Big-Bite-for-dinner-eating ripper wants? He's too busy trying to maximize his ski time while working OT to afford rent in Vail-Alterra-Ikon-Epic country's exploding real estate markets to protest anyway.
But there are still bastions of hope for poor saps suffering from mad pow disease and the hunger for exploration, trust-fund-less and armed only with our snow weapons of choice and a 10-day forecast. Just off the cuff, here are a few hills that have eschewed the conglomeration and so deserve a bit more of your hard-earned dough (especially when you see the top prices listed below, current as of 2018/19, are a drop in the bucket compared to the mega-blue-chips):
Places to go skiing in the USA that are Independent Ski Areas
Grand Targhee ($90)
Wolf Creek ($72)
Bridger Bowl ($69)
Mt. Baker ($60.94)
Kelly Canyon (40)
AZ Snowbowl ($89)
Purgatory($89)
Sipapu ($47)
Pajarito ($49)
Hesperus ($39!!!!)
Mt. Lemmon ($75)
Ski Cloudcroft ($45)
Ski Apache (Native-owned)($74)
Ski Monarch ($54)
Silverton ($79)
A-Basin ($105)
Loveland ($79)
Mt. Hood ($73)
Schweitzer ($81)
Mt. Spokane ($59)
Seven Springs ($89)
And, like, if you got one or a dozen you like, that would be rad if you listed them in the comments.
The list goes on. Explore your local feeder hill. But yes, there are a lot of resorts fighting the imperialism of a couple of super players. So what is it really all about?
What is the Future of the Ski Industry
Always in motion is the future. The industry is actually very afraid of the future as millennials flock to Instagram-worthy "experiences" instead of overpriced ski resort vacations, and in turn, spend their money on photographable fusion eateries and athleisure styles instead of skis and snowboards. But what we see is that as the mega-resorts consolidate into greater and greater behemoths betting heavy on the online, prepay model as a way to guarantee short-term profits, they risk alienating future customers. In effect, they're following the Wall Street worship of short-term gains at the expense of long-term profitability and it's going to be interesting to see when they finally hit that pinnacle beyond which the only option is to roll back or collapse.
Not that we're against online sales or pre-purchasing and with winters becoming more and more erratic we'd never want to jeopardize all the jobs and joy the storied mountains of Summit County, Lake Tahoe, and beyond provide. But we can't help but be worried about what corporate greed with an eye on next season is doing to our snow culture now and in the future. A world where snowboarding is a niche sport for the uber-rich is not a world I'd want to live in. For now, let's make sure we support. The indies who're keeping prices affordable and keeping experiences separate.
Related Articles: