Our picks for the best splitboards for 2023 winter season. There will be a trend that will stand out this year in terms of profiles and the heavy use of camber in the majority of these splitboards. We cover Directional splitboards, twin tips and even a few funky shapes thrown in for good measure.
One thing I can' figure out is why the industry is not selling splitboards with skins, packaged for the consumer out the door. The majority of the brands below do work with OEM skin manufactures and offer custom branded skins for an additional purchase. However if your buying a new splitboard I recommend adding new skins as well. Would you put a set of used tires on a brand new truck and expect it to perform it best? Anyways back to splitboarding..
Best Splitboards

Arbor Snowboards setout to make a splitboard that is attainable for most people in price and in the way it rides. Starting with the price the $699.99 sticker price is sort of in the middle of where most splitboards cost these days. Available in both rocker or camber the new Arbor Landmark Splitboard is the type of boards just about anyone will appreciate riding.
The board features a directional tapered shape with a larger nose for floating in powder and smaller shorter tail along with setback stance inserts. I tested the Camber version which with this shape offered plenty of float in deep powder. New for 2023 is the 4 point camber which in theory gives more contact points with the snow vs the Uprise Fendors Arbor has used in the past. Even with the additional camber contact points I never felt the board being too grabby.
Clips: Karakoram
Skins: Kohla Angusta Arbor Landmark Skins ($229.95)
Available in 152, 155, 158, 161 and 164
Price: $699.95

One the higher end of the spectrum of splitboards comes the CAPiTA Mega Split with it's incredibly lightweight design and sticker price to match of $1,499.99 which does include skins. This split is built around CAPiTA's Mercury Snowboards which offers epic pop, float, and can slay just about any terrain in it's path.
The CAPiTA Mega Split is a directional splitboard with camber underfoot followed by some rocker near the tip and tail before transitioning to CAPiTA's Flat Kick Tip. This profile called Resort V2 gives confidence in steep terrain, allows you to go fast thanks to the camber, and is friendly when landing in deep powder with the rocker and Kick Tips. The board comes with Union's Pro Clips holding everything together nicely.
CAPiTA was able to make this board lighter by creating a new top sheet called Megalite Skin and managed to lighten up the rest of the core along with MEGACARBON biax/biax pure carbon fiber top. If your weight conscious for your splitboard setup aside from Amplid this is one of the lightest splitboards on the market.
Clips: Union
Skins: Union Splitboard Climbing Skins (Included)
Available in 153, 155, 157, 159, 161
Price: $1,499.99
The splitboard that looks like it should cost as much as the Capita Mega Split but comes in at half the price goes to Utah based Cardiff Snow for the Lynx Splitboard. The Cardif Lynx Splitboard has the tightest construction of all the boards we tested. In fact at times it was almost too tight, and hard to get the board apart. However, I would rather have that then be able to see light between the board halves.
For only $750 you get a board that rides great, looks rad and comes from the GP87 factory that is cranking out some of the best boards in the industry these days. This splitboard is being marketed as an "entry-level" board for whatever that means. Honestly I can't see much difference between this and the brands higher end boards. If I was going to buy one board to ride in and out of bounds throughout the year this Cardif Lynx would easily crush any terrain you throw at it.
The board is built on a HALFCamber profile that is 65% camber, putting camber in the middle of the board and some rocker at the tip and tail. This board works great on the up and is a blast on the descent.
Clips: Phantom
Skins: Any Skins will work.
Available in 142, 146, 149, 152, 156, 159 and 162
Price: $750

Typically I avoid splitboards with funky shapes, have weird tails or don't look like traditional snowboards. For the Jones Stratos Splitboard I made an exception to that rule as the Jones Stratos solid snowboard has been making some waves in the industry with it's ability to carve, float, go fast and do just about everything one wants for a freeride board.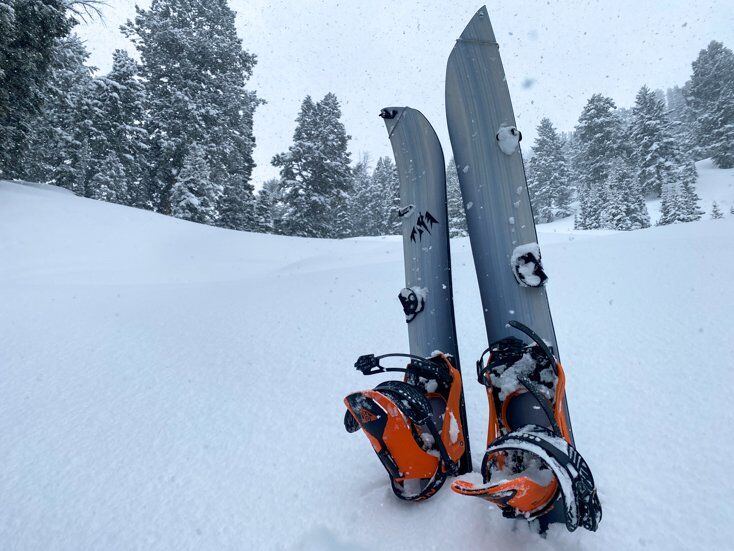 Jones calls this profile a directional rocker with more rocker at the nose than in the tail and camber underfoot. However it's still a camber dominate splitboard with camber underfoot. Jeremy calls it "camber heavy" so don't let the "directional rocker" throw you off. Although it does have a larger nose and lots of rocker, the profile name may confuse people. With a narrow side cut the board is easy to rail into turns, has a tapered design that floats without thinking about it on the way uphill the wavy inside edge offers additional contact points on the skin track.
Clips: Karakoram
Skins: POMOCA Jones Nomad Pro Skins ($279.95)
Available in 156, 159, 161W
Price: $949.95

Is the Rossignol Escaper the most affordable splitboard on the market? Perhaps with it's $575 price point it's less than most traditional snowboards these days. So does the board suck? Far from it. The Rossignol Escaper Splitboard comes with Amptek All Mountain Rocker/Camber blend of 60% camber, 40% rocker. Has a true twin tip shape which I absolutely love. If freestyle is your thing in the backcountry you will love this board!!
The only thing I would question with this board would be it's durability. As it looks like Rossignol saved some money and some weight by making a thinner board with less wood and less core. The board is rated 5 out of 10 on the stiffness scale which works in powder, but may be a little loose in big mountain terrain if there is any chatter at high speed you will feel it for sure.
Clips: Plum
Skins: POMOCA Rossignol Escaper Skins ($209.95)
Sizes Available: 153, 157, 161
Price: $579.95

This new splitboard from Salomon wants to go fall line with it's tapered directional shape and Rock Out Camber profile that is flat between the bindings, camber underfoot and rocker at tip and tail. From touring to shredding fast this profile really allows great contact with the snow. Plus Salomon teamed up with POMOCA for custom cut skins that attach to notches in the tip and tail of the board.
The Salomon Highpath Splitboard is a little on the stiffer side but that means the board is comfortable at speed and with the majority being camber to flat where it matters when you need to count on the board to make a turn or use an edge you can trust this stick. Salomon is utilizing Plum hardware some of our favorite for tip and tail connectors, it's super Euro and it's supposed to be that way.
Clips: Plum
Skins: Any Skins
Available in 156, 159, 162
Price: $899.95

Stranda, a brand you most likely have never heard of is making waves in the splitboard and snowboard world as of late. So hopefully we can help with the buzz. The brand started by Mats Drougge was founded in 2015 after a snowboard trip to Colorado where matt got inspired by people surfing on snow. Perhaps this is why I loved the surfy feel of the Stranda Descended Splitboard.
This directional freeride splitboard features camber underfoot with light rocker at the tip and tail. This full carbon splitboard feels lighter than most of the other boards in our test and absolutely rips in all sorts of terrain. You can go fast, ride deep snow and even hit some airs and cliffs on this board as it sort of feels like a board you would have loved to ride in the 90's. Simple and to the point with a shape made for going falline.
Clips: Phantom & Voile
Skins: Kohla Stranda Climbing Skins ($248.00)
Available in 158, 161, 162W, 166, 166W
Price: $895.00

Lets start with what sort of sucks about this splitboard before I get into the good stuff and there's lot of good. Sadly Burton and Union can't play nicely so for this splitboard you won't be able to use the standard Burton Channel hardware with Union Bindings making this board incompatible with the Union Splitboard Bindings (my personal favorite). Now that we go that out of the way, and you probably own Spark Bindings anyways so the Union thing shouldn't be much of an issue. Plus this board is the only splitboard on this list to come with pucks for mounting Spark or Voile bindings.
What you get with the Burton Family Tree Straight Chuter Splitboard is a tried and true profile Burton calls Directional Camber Bend. This puts camber from the tail to just above the front binding and then rocker at the tip. It's a design Danny Davis runs and is seen in the Family Tree line of boards. The board has a larger tapered nose and a smaller tail. Toss in the directional flex, loads of carbon and mostly camber profile and you have a board with serious pop. One of the best all around splitboards ever built hands down.
Clips: Karakoram
Skins: G3
Available in 151, 159, 162
Price: $1,249.99

Although this board has tapered directional shape it actually looks and ride much more like a twin tip board. Out of all the boards we tested last year the Ridgeline surprised us the most. It's another one of those more entry level splitboards that simply rips. Plus Weston teamed up with POMOCA to offer custom cut skins (available for purchase) that attach to the notches at the tip and tail of the board.
Once again another camber dominate profile with a little rocker at the tip and tail for added float in the deep stuff. This splitboard rides like a traditional snowboard. Although it might not be the flashiest board out there what you get is a board that is built to last coming out of the GP87 factory. Toss in Karakoram clips, Polyurethane sidewalls and tip and tail protectors and the Weston Ridegline Splitboard might just be the sort of board that last for many years to come.
Clips: Karakoram
Skins: POMOCA Weston Approach Splitboard Skins ($249.95)
Available in 154, 158, 162, 162W, 166W
Price: $949.99

If you are weight conscious with your splitboard setup the lightest splitboard on the market goes to Amplid for their popular Miligram splitboard. The previous models weighted about 5.5lbs. which is considerably lighter than most other splitboards on the market. Carbon or non carbon. This board is thinner than all the other boards we tested as well, which can effect the longterm durability of the splitboard. So it's best not to take the Milligram into rocky terrain and expect it to hold up the way a heavier stouter splitboard would.
But if riding in deep snow, this board cuts through the snow surface with ease. I say cut as you really can feel the edges engage as you lean over to rail into turns. And when you want to go back the carbon feels incredibly responsive and seems to want to snap back to taking the Milli Splitboard fall line. It's a directional shape built around camber profile.
Last but not least Amplid added a new gummy wall to the inside edges of the board that seems to seal the board together than traditional split edges offering more confidence on the way downhill with less movement between the board halves.
Clips: Amplid
Skins: Kohla Amplid Pro Skins ($227)
Available in 153, 158, 163, 166
Price: $1,250.00