Splitboard reviews from our 2019 splitboard test which took place over 3 months during the past winter. With the majority of time spent touring and splitboarding the backcountry of the Tetons. Find out which brands made the cut for best splitboards of the year in our splitboard buyers guide below.
Thanks to an epic snow year I had the pleasure of testing all these splitboards in deep powder. Isn't that what splitboarding's all about, searching out untracked snow and getting away from the masses?
Be sure to subscribe to our newsletter to stay up to date on the latest splitboard reviews and outdoor gear reviews.
Best Splitboards 2019
The best splitboard money can buy comes from Burton Snowboards. The Men's Burton Family Tree Flight Attendant X Splitboard offered the most fun out of all the splitboard's I tested last winter. Most likely this was due in part to the splitboard's weight, Burton uses a Dragonfly core giving the splitboard considerable weight reduction. Essentially The Dragonfly places thicker wood in high impact areas and thinner wood in places that don't need it as much.
Why is less weight important? We spend 75% of the day touring, so being fatigued when you're going to strap in won't help you any on the way downhill. The Burton Family Tree Flight Attendant X Splitboard, when paired with the new Spark R&D Arc Pro Bindings, is possibly the lightest soft boot setup available on the market.  This direction camber splitboard is extremely nimble, poppy and quick. [Purchase: $1,499]
Most likely as a splitboarder you have heard some fuss about the new Lib Tech Splitboard.  The 2019 Lib Tech Split BRD was designed with touring in mind.  Finally, Lib Tech started to pay attention to splitboarders needs and it shows in the profile of this board. This Camber-dominate splitboard still has a little bit of rocker between the feet, it's a Lib after all.  Keep in mind the rocker is sort noticeable on the skin track.
Where the real fun with this boards begins is going downhill.  With a Polina Wood core, the 2019 Lib Tech Split BRD offers a very lively, snappy ride on the descent. Toss in a high end Sintered Base and this board flies down the mountain, and won't suck up wax as fast as other boards on the market. [Purchase: $849]
CAPITA has a splitboard called the Neo Slasher which simply rips going downhill, especially when paired with the Union Expedition Bindings. So what makes this splitboard stand out? It's ability to crush the entire mountains, thanks in part to the addition of traditional positive camber underfoot and flat camber in the rear. Plus reverse camber where you need it most, at the tip and tail.
If you spent time snowboarding when camber was a thing back in the 90's Capita's Neo Slasher will offer a very familiar, responsive feel. The CAPITA Neo Slasher Splitboard has tons of pop, great durability, and a sintered base. CAPITA snowboards are built by hand at their Mothership factory in Austria. [Purchase: $749]
Rome made a splitboard for normal people. One of the best entry-level splitboards out there, that kicks ass. Basically, the Rome Whiteroom Splitboard is the sort of board you buy if you go splitboard up your local ski hill before work.   Built off the Powder S profile with camber from the tail up through the midsection and rocker at the tip, this blend works really well when it comes to splitboard profiles. The Whiteroom Splitboard performs incredibly on the way down and works well on the way up.
Rome's Whiteroom Splitboard is the most affordable splitboard on this list. With the lower price does come a little sacrifice in terms of durability. If you're someone that splitboards less than 10 days a year this is a great board to consider. [Purchase: $679]
Camber, hmm that seems to a be a trend in all the boards above including this one from Arbor Snowboards. The Arbor Bryan Iguchi Pro Splitboard was designed by Bryan Iguchi who likes camber. And for good reasons, camber is powerful and reliable. The 2019 Arbor Bryan Iguchi Splitboard comes in a Med-Stiff Flex which seems to be a little damper and more responsive than the solid version of this board I tested a few years back.
This splitboard uses a Grip Tech sidecut which offers incredible edge hold in shitty snow.  Thanks to tip and tail fenders the Bryan Icghuci Pro Splitboard offers a more forgiving catch-free ride. [Purchase: $789]
Ahh CamRock, Jones Snowboards gets it clearly with a guy like Jeremy Jones behind the scenes. The 2019 Jones Mountain Twin Splitboard offers camber in the middle of the board, underfoot and between the bindings with a rockered tip and tail.  This blend allows for great camber pop and edge hold and a ton of freestyle fun.  For years the Jones Mountain Twin was always my go-to solid board for a true twin splitboard.
If you like to send kickers in the backcountry, this board is for you. It's one of the few splitboards you can actually ride inbounds and have a blast on too. Would pair great with the new Karakoram Prime Connect Splitboard Bindings. With Bamboo stringers and a wood core, this splitboard can really absorb chatter on the descent.  Last but not least the Jones Mountain Twin Split comes with a Quick Tension Tail notch. This system allows Jones Pomoca Skins to attach through the top sheet essentially making your skins stay in place throughout the day. This is hands down the best freestyle splitboard available. [Purchase: $779]
Weston Snowboards based in Colorado made a board for one of their team riders.  If you lived in Colorado you might be familiar with the brand; for everyone else, take note: These are some great splitboards.  I had a chance to test the Weston Range Splitboard which was designed by snowboarder Joe Otremba. Like just about every other board on this list, the 2019 Weston Range Splitboard is built with camber underfoot and rocker at the tip and tail.
This directional twin shape allows you to really throw down in the backcountry, another great splitboard that won't sacrifice your freestyle abilities on the way downhill. The Range is a little heavier than other boards we tested, but with that comes added durability in the Polamine top sheet. [Purchase: $849]
A Rockered splitboard made the list.  And the cat's out of the bag here, I freaking love this board and always have.  The 2019 Arbor Coda Splitboard is a blast going downhill.  With Arbor's System Rocker you literally float down the mountain with ease for the ultimate surf-inspired session. The board is similar to the old Abacus that we loved and not much has changed, they got it dialed with this board.
Everything here works, however, touring can be a pain in the ass depending on conditions with the Parabolic Rocker.  You might think your skins are failing, perhaps they are.  Arbor is seeing the trend of camber for splitboarding, so they went and shaved down the amount of rocker in the tail of the Coda Splitboard. This allows the board to stay against the snow surface while touring more than in years past. [Purchase: $739]
All the splitboards that made the list of best splitboards for 2019 are a sure bet.  I tested a bunch of boards that did not make the cut as well. If you have any questions about these splitboards or others on the market please don't hesitate to reach out and contact me.
Furberg is back on the list of the best splitboards of the years with their updated Freeride Split. One of the most noticeable changes to the 2019 splitboard is Furberg's use of an Isosport Polyamide topsheet.   When it comes to splitboarding on hard snow or even wind buffed the  Freeride Split delivers confidence with a shorter turning radius than in years past.  The Freeride Split is built with low camber underfoot and rocker at the tip and tail of the board.
The Freeride split is able to cut through the snow with ease, almost too easy at times.  If you find yourself riding in places with heavier wetter, even firmer snow this version of the Furberg Freeride Split is for you. [Purchase: $849]
TahoeLab is a smaller under-the-radar, for now, splitboard, snowboard and ski manufacturer based in Lake Tahoe, California.  I had a chance to test the TahoeLab Directional Splitboard last winter and really only had good things to say about the board. With a directional camber profile and early rise tip and tail, the Directional Splitboard offers great stability and float all in one.
The Directional Splitboard is not as lightweight as the Burton Flight Attendant X, but it sure comes close. TahoeLabs figured out how to wrap sheets of carbon around the wood core for their Phantom layup.  If you like to go fast this splitboard is for you. TahoeLab Splitboard Review [Purchase: $849]
For anyone that plans to be in the Tetons this winter, look me and well go for a tour. Most of these boards are currently in the office and are available for demo.
Best Splitboards 2018
Olive, a Canadian splitboard,  snowboard and skateboard manufacturer based in Alberta, Canada has once again made the list of the best splitboards of the year. In fact, one of the most epic days of the season came while riding the Olive Numchuck Splitboard. What sets Olive splitboards apart from every other board on this list is the construction. The Numchuck's tips and tail are reinforced with Aluminum throwing star inserts, which help to protect the tip and tail when touring and riding off-piste.
This hand-built board is designed for splitboarders looking for a stiff ride and ultimate control in big mountain terrain. The Numchuck is a rockered splitboard with camber underfoot and a big ole nose that offers insane float. This splitboard may feel a bit heavier than other splits you have ridden in the past because, Olive uses a specially formulated urethane to encapsulate the core from tip to tail, creating overall bomber construction throughout the board. This split is available in size 157 and 162. [Purchase: $985]
Lib Tech's another brand that has been making handmade snowboards, splitboards and even surfboards in Washington state for decades. Returning to the list of best splitboard of the year for 2017/18 is the Lib Tech T. Rice Goldmember directional twin swallow tail Splitboard. This board is the sharpest board on this list and by that I mean the Magne-Traction edges will cut you if you don't detune them. Along with 7 sharp contact points, the Goldmember Splitboard comes with a pointed nose and low swing weight, making this board ride more like a traditional snowboard than a splitboard. If you like to send jumps in the backcountry while touring and have an affinity for spinning, you will love this board.
The Gold Member splitboard runs a C2X rocker/camber hybrid profile that offers a medium-to-stiffer flex with more camber than rocker throughout the board. Along with being a lightweight ripping splitboard, the Lib Tech Gold Member utilizes Firepower construction which puts balsa, aspen, basalt and birch along with a whole bunch of other natural materials throughout the board. This is one of the more lively splitboards ever built. Available in sizes 159 and 163. [Purchase: $969]
OZ Snowboards OZsym Splitboard – ($899)
Back for the second year in a row is Oz Snowboards based in Wheat Ridge, Colorado. Hands down the OZsym Splitboard had the cleanest construction of any of the boards we put underfoot. And by cleanest I mean everything was made specifically to be a splitboard as opposed to a snowboard company trying to figure out how to make a splitboard. When in ride mode, the board really sealed together nicely, especially with the added contact point between the feet. Whats wild is Oz Snowboards are just using the regular old Voile clamps on this split yet this board seals up incredibly tight thanks to the patented SplitLock tech and another industry innovation from Oz Snowboards, a beveled sidecut.
When it comes to going downhill this board f*cking rips. The OZsym is an asymmetric splitboard with camber between the feet and rockered tip and tail. The OZsym Split uses Carbon Fiber construction and wooden stringers running throughout the entire length of the board. This board truly excelled in deep powder, had great edge hold on windblown pow and was a breeze to tour on. The OZsym Splitboard is available in sizes 154, 157, 162 and 165
Never Summer has been manufacturing handmade snowboards in Denver, CO for over 25 years offering some of the most durable & unique boards on the market. New for 2017/18 is the Never Summer Swift Splitboard featuring a 3/4″ tapered design (the most in the Shaper Series). Along with an early rise nose, the Swift adds a feature and a trend we're starting to see on a bunch of boards as of late, especially powder shapes, the bat tail, better known as a swallowtail.
Clearly, with the Swift's shape, this splitboard can eat powder for breakfast. Here's what Gags at Never Summer had to say about the Swift:
"It's a snowflake crushing machine"
When it comes to surfing big powder days the Swift Splitboard can move buckets of snow. Whats interesting though is the board performs well in choppy, chunder snow too, and even hardpack thanks to the Vario Power Grip sidecut's amazing edge hold. The only hiccup with this board comes when touring as the shape isn't flat under foot; instead, it's a pretty aggressive profile. If you can find a pair of skins that fit right and adjust the way you tour just a bit, the Never Summer Swift Splitboard will surely lead you to deep untracked turns. Available in sizes 157, 162 and 167. [Purchase: $1,039.95]

For the first time, Signal Snowboards has entered into the splitboard world, most likely a result of signing John Jackson. Hand-built in Huntington Beach, CA, Signal Snowboards has done things entirely different from the rest of the industry. New for 2017/18 is the Signal Split, a directional twin that offers up a good bit of float and a ton of freestyle pop.
This cambered splitboard is snappy thanks to the use of poplar and yet super stiff with a fiberglass carbon top sheet. The one thing to keep in mind is the Signal Split is a full cambered board. We used to joke and call this Tomahawk tech. If you've been riding rockered boards you'll want to find your edges again, carefully. The weight is a little on the heavy side but the durability will last with the ABS sidewalls. Heading to AK and planning on sending big lines? This is the sort cambered splitboard you might want underfoot. Here's what stands out about Signal and one of the reasons this board made the list of the best splitboards of the year: Signal Snowboards is offering a subscription service that you can signup for to get the Signal Splitboard for only $55 a month. Or you can just purchase the board outright. [Purchase: $599]
The funkiest shape on the list of the best splitboards of the year goes to Rossignol for the Sushi Splitboard. The Sushi split is the brainchild of Xavier de la Rue. Do we need to say anymore? This powder-eating machine is just that. If you ever road a Fish snowboard you are really going to dig this shape. With a big ole nose and slight taper, this board will always keep you afloat. It's got a short tail which is surprisingly responsive for this sort of shape.
The Rossignol Sushi is a rockered splitboard with camber underfoot. The board is a bit on the wide side yet can still suck up bumps with ease thanks to rubber inlaid against the edges. The only hiccup comes when trying to stay in skinny skin tracks; otherwise, this board is a blast and not just on powder days. Thanks to the use of Magne-Traction the Sushi can hold it's own on icy hard packed snow too. The Rossignol Sushi is available in one size a 154. [Purchase: $549]
Without Jeremy Jones, the brainchild behind Jones Snowboards, most of us, myself included, would've never been exposed to splitboarding. Jeremy, as of late, has put his carbon polluting heli days in the backseat in trade for leg power. And with that Jones Snowboards was born. The Jones Explorer Splitboard is a fun and easy-to-control board that offers a camber profile underfoot and a long effective edge. Toss in a rockered tip and tail and this splitboard does what it was built for, surf deep powder snow.
The Jones Explorer is a directional splitboard with a slight setback stance. If you're someone that likes to drop off rocks, cliffs, and butter in the backcountry, you will enjoy the freestyle feel with a 6 out 10 flex rating. The Jones Explorer is available in sizes 152, 156, 158W, 159, 161W, 162 and 164W. It's the most affordable entry-level splitboard in the Jones Snowboards line.  [Purchase: $699.95]
Weston Snowboards, based in Minturn, Colorado, has been getting better and better each season, most likely this has to do with their R&D spot (Meadow Mountain) being located literally right out their backdoor. The Weston Big Chief Splitboard has been winning numerous awards of the year, including our 2017 SIA Editor's Choice Award, and here's why: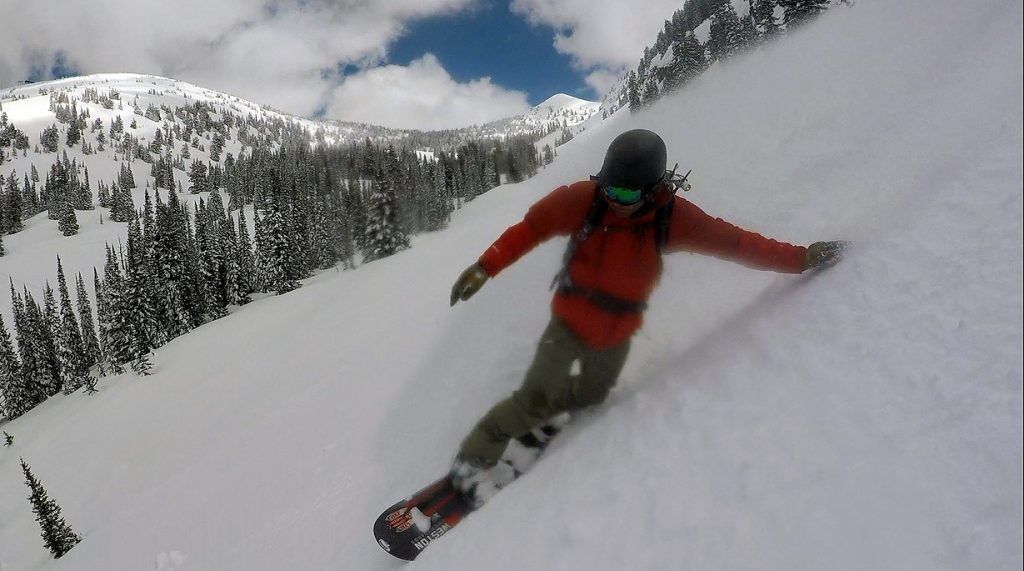 Like any real big mountain board, The Big Chief is a directional splitboard built for speed. That just may surprise you with how malleable it rides with the rocker-camber-rocker profile.
The Big Chief splitboard comes with a healthy dose of bamboo, poplar and paulownia wood for a nice green feel. Available in sizes 157, 164 and 168. [Purchase: $899]
Rounding out the list of the best splitboards of the year is another smaller Colorado-based company, Coldsmoke Splitboards. Based in Gunnison, Colorado, these guys have the legendary terrain around Crested Butte and the Elk Mountains to access for R&D. And it shows in this splitboard, that's most likely been flying under your radar, until now. With increased camber under the backfoot the Coldsmoke Voodoo split manages to edge nicely on firm snow, transitioning smooth and concisely from edge to edge. The edge hold was especially apparent while making turns in steep terrain. When it comes to riding powder the rockered tip and tail on the Voodoo splitboard keeps the board floating on the snow regardless of how deep it is.
Cold Smoke is a small production company that takes the time to build each and every board by hand. The Voodoo comes with a plain black sintered base which goes super fast, and when combines with a wood core, the board remains lightweight. In fact, it's two-thirds of a pound lighter than the original model. Available in sizes 154, 158 and 163. [Purchase: $850]
Another brand making handmade snowboards and splitboards in the state of Colorado is Venture Snowboards, based in Silverton. What makes Venture snowboards stand out from the competition is where these boards are designed and built to be ridden, in gnarly big mountain terrain. The Paragon Split is a rockered splitboard with a 6 out of 11 on the flex meter, which means the board is a lot softer and more forgiving than past Venture boards.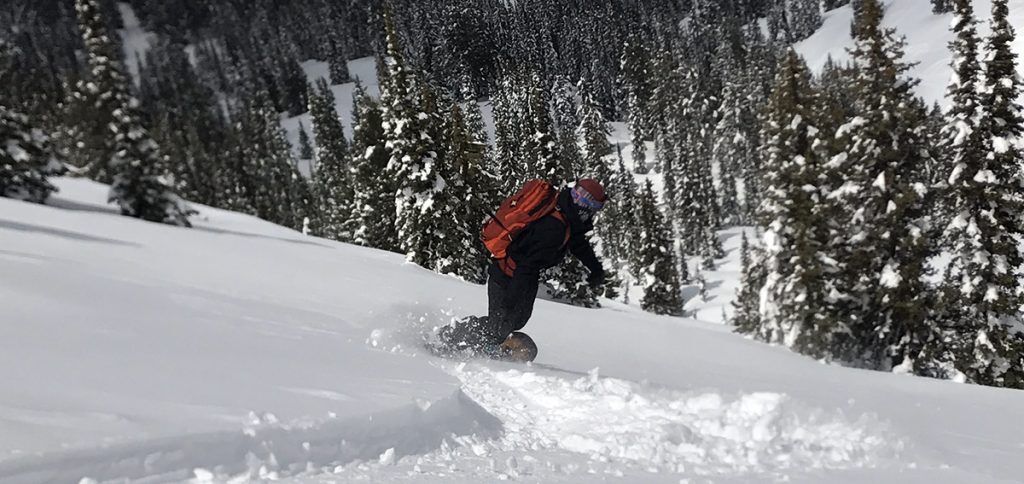 Venture uses Aspen wood in the Paragon core, which was sourced less than 100 miles from their factory. And their entire operation is based on wind power if you're wanting a green split. The Paragon Splitboard is a directional shape with a slight setback stance so clearly, it rips in powder but you can still ride switch and easily throw down off cliffs and backcountry booters. The construction is bomber, as always from Venture, complete with P-Tex sidewalls & carbon steel edges. If you own a Venture snowboard, you know the deal: This thing's going to last a while. Available in 156, 157, 160, 161, 165, 166, 170. [Purchase: $888.95]